'CPEC projects attracting investment' in great fashion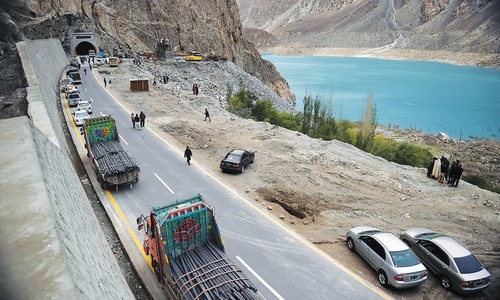 ISLAMABAD, (DNA) :  The ongoing projects under the China-Pakistan Economic Corridor (CPEC) are stimulating further investment in infrastructure development in Pakistan, Minister for Finance Ishaq Dar said on Friday.
Speaking to a delegation of Chinese private equity investors, the finance minister emphasised that Pakistan and China are collaborating strongly for developing connectivity in the region.
The Chinese delegation was led by Mr Yau Wai Ming, Chairman HaoTian Group Holdings Limited and Ms Cheng Yan, Vice President China Huarong Internat­ional Holdings Ltd, Hong Kong. Minister for Petro­leum Shahid Khaqan Abbasi and SECP Chairman Zafar Hijazi were also present in the meeting.
Mr Dar appreciated the interest of Chinese investors in Pakistan. He said that due to the strong economic fundamentals achieved by Pakistan in the last three years, international investors are keenly interested in exploring investment opportunities. Ms Yan greatly appreciated recent economic progress made by Pakistan.
She briefed the minister that the delegation was interested in identifying investment opportunities in Pakistan in the fields of infrastructure, finance, petroleum and retail business. The delegates have been preparing draft investment plans keeping in view the investment opportunities offered by Pakistan, she added.
Mr Ming said the delegation comprised large asset managers from China who are interested in investing in Pakistan due to the macroeconomic stability and investment facilitative regime.
Mr Dar said the Pakistan Development Fund Ltd (PDF) would finance commercially viable infrastructure projects in Pakistan. The government has received interest from IFC of the World Bank, China Development Bank and sovereign investment authorities for equity investment in the PDF, he added.The meeting was attended by senior officials of finance, petroleum and water and power ministries.
According to Khaleej Times report, China Pakistan Economic Corridor (CPEC) is planned to shoot up for a $ 150 billion investment, And a new whole world of business that will make it the largest economic region, as details of its size and stature are unveiled this week.
The plan is to connect three engines of growth South Asia, China and Central Asian Republics and aligning it with the entire South, Northern and North Western regions.
"CPEC will blaze a whole new trail," Chinese President Xi Jinping and Prime Minister Nawaz Shairf say.
The latest "Summit of top government leaders and Investors" which has just concluded in Islamabad, projects the overall international investment in CPEC, covering 2014 to 2030, will shoot up to $150 billion, terming the $46 billion initial plans for it as just the starters just the beginning of its phase one.
Prime minister Nawaz Shairf, while inaugurating the summit said CPEC is going to change fate of the entire region.
He said it will eliminate poverty and unemployment and bring the people up front into the mainstream of modern and developed countries.
"The CPEC project is the fusion of President Xi's 'one Belt One Road' with Pakistan's 'Vision 2025', which is sought to harness Pakistan's geo political position into geo economic advantage by connecting the three engines of growth South Asia, China and Central Asia," Sharif said.
Finance Minister Ishaq Dar, speaking about the CPEC, its economic fruits, and investment and business potential of Pakistan, at the summit, said Pakistan will soon become the choice destination for foreign investment.
Miftah Ismail, chairman of Board of Investment (BoI) said on completion of this mega project, Pakistan will be expecting approximately $150 billion international investment in the country into different business and manufacturing centers and investment  by Chinese firms.
"The estimate for the projected investment of $150 billion has been worked out on the basis of firm commitments with prospective investors," he said.
Ahsan Iqbal, Minister for Planning and Development, who is also Minister in Charge of CPEC, said the connectivity through this mega project will enhance trade opportunities for Pakistan with 70 per cent of the international maritime trade via Pakistan's two big ports of Karachi and the new Chinese built port of Gwadar.
"Gwadar will fast track exports and import to and from UAE, GCC, Saudi Arabia and adjacent regions," he said.
"About $18 billion worth of projects are in the Implementation phase while the remaining portfolios of $17 billion projects are at the preparation stage," Ahsan Iqbal said.
An amount of $11 billion will be spent on infrastructure mainly construction of roads and development of Gwadar port.
Chinese Ambassador to Pakistan Sun Weidong, speaking at the summit said: "We look forward to speedy completion of the projects, included in the CPEC plan.
We hope, with its full implementation, it will help create more jobs, provide better health and educational facilities.
Yan Zhiyong, chairman, Power Construction Corporation of China, spoke on the role of China in promoting 'One belt one road CPEC initiative'.
The summit attracted more than 150 leading Chinese businessmen and investors, representing industries ranging from energy to autos.
Nasir Saeed, vice president of the Lahore Chamber of Commerce and Industry, said CPEC has drawn the attention of foreign investors towards Pakistan.
Ali Mohammad, chairman of Gul Ahmed Textile Mills, asked Chinese companies to shift plants to Pakistan to overcome their high labor cost.
"Pakistan will help with its has a hug bulge of youth population. China is still exporting 36 per cent of world's textiles," he said.