Committee to probe controversial story soon : Nisar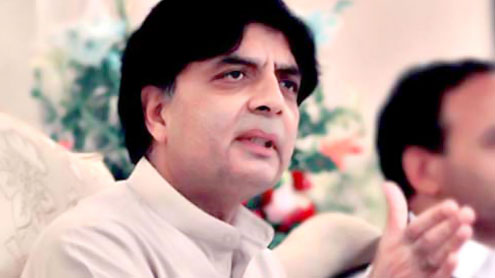 ISLAMABAD, (DNA) :  Interior Minister Chaudhary Nisar Ali Khan on Saturday said inquiry committee to probe publication of a controversial news story about national security meeting will be constituted within two days.
Talking to newsmen in Islamabad on Saturday, he said a retired High Court Judge will head the committee.
He said the committee will comprise senior honest officers who have excellent professional career.
Earlier, Nisar Ali Khan has admitted former information minister Pervaiz Rasheed failed to stop the controversial news published in a local daily.
"The interior ministry has conducted investigation through every aspect on this matter in which Pervaiz Rasheed has been found in contact with the journalist Cyril Almeida," he said has said about the news being termed to be breach of national security.
He has negated authenticity of the news and also denied any exchange of hot words between civil and military leadership.
Chaudhry Nisar said Rasheed should not have let Dawn's story go into print.
Pakistan Tehreek-i-Insaf (PTI) chief Imran Khan said that the October 6 news leak regarding the high-level security meeting is a sensitive issue and action must be taken against all those who are responsible for the news item which breached national security.
Imran Khan claimed that the news item used the same language 'Modi' and 'Israel' use against Pakistan's armed forces.
"People belonging to a certain political class are pretending as if this breach is no big deal but if you see the US presidential elections, Hillary Clinton is facing an inquiry into her emails breaching national security," said the PTI chief.
He lamented that the controversial news item came at a time when the army is fighting on all fronts and is stressed due to the cross-border firing, anti-terror war and national security responsibilities.
"The language used was of Narendra Modi, the Israeli lobby, which is against our nuclear program," said Imran Khan.