David Hale meets with Pakistani "Let Girls Learn Ambassadors"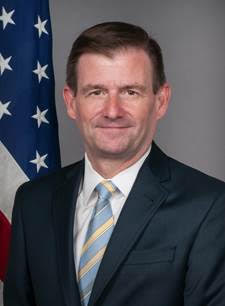 ISLAMABAD, SEPT 26 (DNA) – – American Ambassador David Hale welcomed back from the United States Pakistan's Let Girls Learn Ambassadors Summayka Qadir and Deepa Kumari who represented their country in New York City during United Nations General Assembly (UNGA) week.
The women participated in  the "Broadway Shines a Light on Girls' Education" event on September 19,  part of the Let Girls Learn initiative, which encourages world leaders to provide education opportunities to an estimated 62 million girls globally who do not attend school .
Hosted by First Lady Michelle Obama, the program was convened as a side event to coincide with the gathering of world leaders in New York for the opening of the 71st UNGA.
At the event, three young women from Pakistan, Jordan and Malawi spoke about their personal educational experiences, highlighting the importance of girls' education.  Dignitaries, including several spouses of the heads of government participating in this year's UNGA, attended the event.
Ms. Qadir, 19, told her story on stage: "I came from an impoverished single-parent household. Despite financial hardships, I was accepted into medical school and granted a full scholarship from USAID for my studies." She has aspirations to become a doctor to help others. "To me, girls' education is very important, as girls deserve the education as much as the boys do."
When greeting Ms. Kumari and Ms. Qadir upon their return to Pakistan, Ambassador Hale stated, "Girls with dreams become women with vision.
Let's create a world where this vision runs free.  Educated girls like Summayka and Deepa will become women who can ultimately strengthen their families, communities, and countries. This important initiative will be transformative for Pakistan, empowering young women to overcome barriers and lift themselves out of poverty."
The two young women were selected from the many beneficiaries of the USAID-funded Merit and Needs-Based Scholarship Program which is implemented in partnership with Pakistan's Higher Education Commission.
With the help of this program, talented yet economically disadvantaged Pakistani youth are earning bachelor's or master's degrees at  31 partner universities across Pakistan. The program is also a part of USAID's Let Girls Learn initiative.
USAID's Let Girls Learn in Pakistan program was announced last year on October 22 by Michelle Obama and First Daughter Maryam Sharif in coordination with the Government of Pakistan as a commitment to advance girls' education.
The program will provide an additional 200,000 Pakistani girls access to education and the tools they need to succeed in life.
This initiative demonstrates the importance that both countries attach to girls' education.  Building on Pakistan's commitment to double its spending on education, the United States will invest $70 million to educate adolescent girls in Pakistan.=DNA
===============