Xinjiang takes measures to strengthen sustainable use of water resources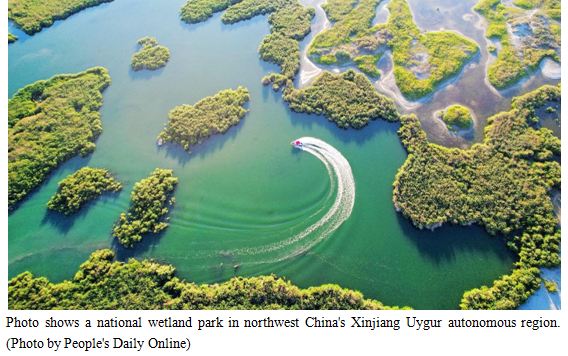 By Li Ya'nan, People's Daily
Water is the lifeline of economic and social development. It is a fundamental natural resource and economic resource of strategic importance.
For a long time, Xinjiang Uygur autonomous region in northwest China has faced the problem of uneven spatial and temporal distribution of water resources, which led to a prominent structural water shortage.
In recent years, Xinjiang has been working to improve the management of water resources, shifting from a less efficient and unorganized approach to a more refined and science-based one. A unified, efficient, and systematic water resources management system has been formed.
As a result of the efficient allocation and rational use of water resources, Xinjiang has seen continuous improvements in its ecological environment with increasing momentum for high-quality economic and social development. People in the autonomous region now feel more content, joyful and secure.
On March 15, 2021, the Daheyan Reservoir in the northern mountainous area of Daheyan township, Turpan of Xinjiang, officially started supplying water to the downstream areas. The reservoir was built to store excess water in winter and summer and provide water to downstream areas during spring and winter irrigation periods. As a result, the rate of reliable irrigation water supply has increased from 75 percent to 90 percent.
The Hongliuhe horticultural farm is situated downstream of the Daheyan Reservoir. Local fruit farmer Li Xianshui told People's Daily that in the past, farmers struggled during the grape flowering period in May due to high water demand, which often led to inadequate irrigation. During the peak water flow period in July and August, farmers were unable to make use of the water for irrigation, and could only watch it flow away.
However, things have changed now. Whenever the agricultural water demand reaches its peak, farmers simply need to submit their water usage plans in advance, and the reservoir would provide ample irrigation water.
This has led to a significant improvement in grape production, with yields exceeding 3 tons per mu, or about 667 square meters.
As of the end of 2022, there were a total of 671 reservoirs in Xinjiang, with a total storage capacity exceeding 12.13 billion cubic meters. These reservoirs have supplied a total of 54.27 billion cubic meters of water for agricultural use and 36.7 billion cubic meters for ecological replenishment.
This has successfully achieved the objectives of diversifying water diversion, increasing water supply, and enhancing water storage, and played a significant role in generating social, economic, and ecological benefits from water resources.
In the southern part of Korla, Bayingolin Mongolian autonomous prefecture of Xinjiang, there is a Dujuan River wetland park, which covers an area of 5,400 mu. It has planted over 10,000 trees and shrubs, as well as a large number of aquatic plants, serving as a "green lung" for the city.
To meet the substantial irrigation needs of this greening project, water is obtained from a wastewater treatment plant situated a few kilometers away. After undergoing rigorous treatment, the domestic sewage is purified to reach Class A standards.
The treated water is then channeled to the wetland park, ensuring a consistent daily supply of 30,000 to 50,000 cubic meters. This saves approximately 9 million to 15 million cubic meters of water each year.
"Currently, 22 percent of the city's irrigation water for greening comes from reclaimed water, with an annual usage of 15 million cubic meters. This not only reduces the cost of urban greening but also conserves surface water and groundwater resources," said Guo Wei, deputy director of the gardening and greening affairs center of Korla.
Bosten Lake in Bayingolin Mongolian autonomous prefecture's Bohu county, the largest inland freshwater lake in China, once faced a series of challenges such as declining water levels, severe pollution, and biodiversity loss.
According to Liu Yi, an official with the local ecological department, significant measures have been taken to address these issues. A total of 29 direct or indirect sewage outlets into the lake have been permanently sealed off.
Since 2018, approximately 807 million cubic meters of water have been transferred from the Kaidu River in Bohu county to the Bosten Lake, promoting the great circulation of water bodies and water quality improvement in the lake.
Currently, the water level of Bosten Lake has risen by nearly 2 meters compared to its lowest point, reaching 1,047 meters, The overall water quality now meets Grade III in the country's water quality system.
With the continuous improvement of the ecological environment, the variety and number of wild bird species in the Bosten Lake have been increasing. According to observations, there are hundreds of thousands of birds of 198 species passing through the lake during migration. The Bosten Lake is also the largest fishery production base in Xinjiang.
Thanks to the promotion and popularization of efficient water-saving agriculture, agricultural production in Xinjiang has made a new leap forward. This year, the total output of summer grain in Xinjiang reached 7.01 million tons, hitting a new historical high, and various fruits and nuts have achieved both quantity and quality improvement.
In Naomaohu township, Yiwu county, Xinjiang, there lies a vast Hami melon base. "All the melons this year have been sold, and the average income per mu is around 4,000 yuan ($549)," said Liang Juanying, a Hami melon grower who planted 290 mu of melons this year.
Liang attributed the increase in income from Hami melons to the adoption of advanced cultivation techniques, specifically the use of under-mulch drip irrigation.
In 2001, Naomaohu township promoted the cultivation technique of under-mulch drip irrigation in the base. Today, the irrigation in the base can be controlled on a mobile application, which reduces the overall water cost by 30 percent. This has not only achieved efficient utilization of water resources but also improved the quality of Hami melons.
Yuli county is a major cotton producer in Xinjiang. So far, efficient water-saving techniques have been implemented in over a million mu of cotton fields in the county. The average water saving per mu of cotton production has reached 100 cubic meters.
In a 3,000-mu cotton field managed by an agricultural tech firm in the county, over 100 soil sensors were seen autonomously irrigating and fertilizing based on soil moisture conditions.
According to Ai Haipeng, leader of the managing team of the cotton field, told People's Daily that compared to surrounding traditional farms, the field reduced irrigation water consumption by 47.3 percent last year, while achieving an average yield increase from 300 kilograms per mu to more than 400 kilograms per mu.