WHO Regional Chief, Health Minister discuss challenges in key health initiatives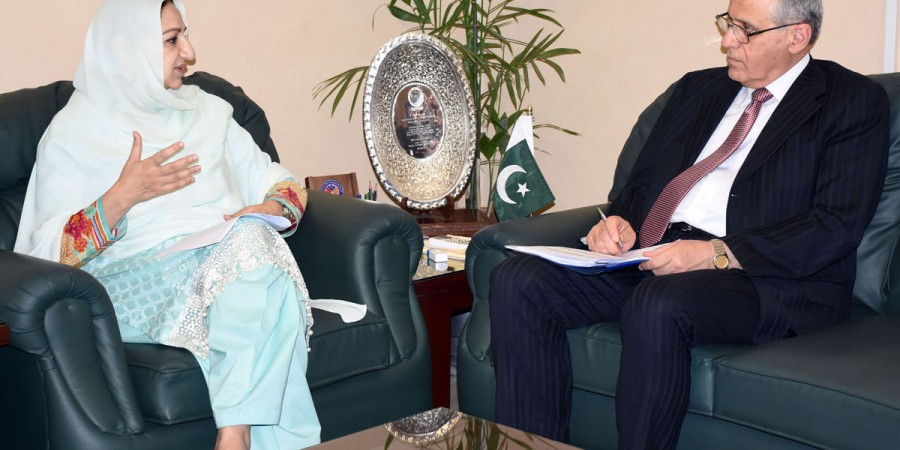 ISLAMABAD, 29 JUNE (DNA) – Regional Head of World Health Organization Dr. Ala Alwan called on Minister for National Health Services Saira Afzal Tarar on Wednesday to discuss the progress and challenges in key health initiatives in Pakistan.
The Minister informed the visiting dignitary that her Ministry had launched major initiatives in the area of universal health coverage and disease prevention and control. A major reform agenda is being implemented partnership with the provinces to take the health sector forward, the Minister said.
Minister appreciated WHO support in Joint evaluation of Pakistan health sector and also thanked WHO for support in improving drug regulatory authority. Regional WHO Chief was informed of major reforms in drug regulations. For the first time in country's history we have introduced a drug pricing policy.
The WHO Regional Chief was informed that National Health Vision document has reached final stages of development after extensive consultations with provincial governments and involving around 500 experts. The document will be placed before the parliament.
Dr. Ala Alwan was briefed on new health initiatives launched by the ministry of national health services. Taking cognizance of rising number of cases of non communicable diseases like cancer and diabetes and a special cell has been established in the ministry and provinces. Ministry of NHSR&C is aiming to develop a strong national surveillance and response network in place. ISO certification of the ministry is being finalized.
The dignitary was given a detailed briefing by the Director General Health Dr. Assad Hafeez on Prime Minister's National Health Program. It was informed that monitoring is being done through Central Management Information System and a robust monitoring program for PMNHP is in place. Patients satisfaction under the program is critical therefore an elaborate feedback and follow up mechanism has been put in place. So far 17000 people have been admitted in hospitals under the program. The different treatment packages available under the program to those living below poverty line were shared.
WHO Regional Head said we are proud of Pakistan's Polio achievement. Polio eradication will be landmark victory. Dr. Ala Alwan expressed great appreciation for Health Minister for her leadership in Polio and other key initiatives aimed at reform and improving the health sector.
Dr. Alwan said WHO was looking to work with the government to work on areas identified in our joint evaluation of health sector. He called for protocol on illicit trade to be ratified to take concrete action in the area. Regional Director suggested a national workshop in the area of non communicable diseases.
The WHO Regional Chief said the list of assistive devices for disabled persons launched by Pakistan Health Minister in Geneva was a welcome development. DNA