PM to launch green Pakistan program in August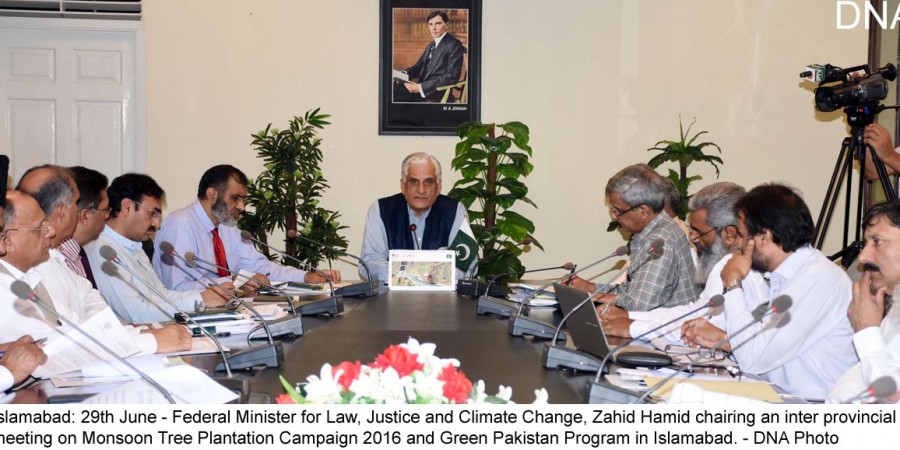 ISLAMABAD, 29 JUNE (DNA) – An inter provincial meeting was held at Ministry of Climate Change on Monsoon Tree Plantation Campaign 2016 and Green Pakistan Program Coordination chaired by federal Minister for Climate Change Mr. Zahid Hamid.
"The national Tree plantation campaign will start from 14th august 2016. The Prime Minister of Pakistan will launch Green Pakistan Program along with the inauguration of the Monsoon Tree Planting Campaign 2016", said by the Federal Minister for Climate Change Mr. Zahid Hamid.
It was also decided in the meeting that that federal, provincial and local governments will make arrangements for planting by government servants in Islamabad, Provincial, divisional, district and tehsil headquarters.
They will select suitable sites at each station and provide necessary facilities for tree planting by government servants. In Islamabad CDA will make arrangements and organize special events for planting saplings by federal government employees, students, NGO's and general public. CDA will communicate information on planting arrangements and events to Ministry of Climate Change for its timely circulation and coordination.
The meeting also reviewed progress of spring Tree planting 2016.The Punjab Forestry Department set targets of 12.09 million and planted 12.13 million and out of which 101 million survived. The Sindh Forest Department set targets of 7.1 million and planted 4.35 million and 64 million survived. The Baluchistan Forest Department set target of 1.5 million, planted 1.093 million and 70 million survived.
The Azad Jammu and Kashmir Forest Department set target of 1.3 million, planted 3.157 million and survived 70 million. The Forest Department of of FATA set target of 4 million, planted 4.389 million and survived 80 million. The Forest Departments of Khyber Pukhtoonkhawa Forest departments set targets of 123 million planted 175.64 million and secured 75 million. Gilgit Baltistan planned 1.1 million, planted 0.711 million and survived 65million.
It was also informed to the participants during the meeting that to enable various government departments/agencies to concentrate on tree planting, special planting days are fixed. On 14th August 2016 will be inauguration of Monsoon Tree Planting Campaign at national level.
Then 15th August will be fixed for armed forces, police and civil armed services, 16th August for local bodies, corporations, municipalities, autonomous/semi autonomous bodies and industrial estate, 17th August for health services, hospitals, dispensaries, livestock departments/farms and agriculture farms, 18th August for Auqaf Department, civil Aviation Department , jail authorities and 19th august for educational institutions, schools, colleges and universities.
To ensure full participation of general public in tree planting drive the provincial Forest departments will publish special articles and take part part in talk shows to enhance the importance of talk tree plantation.
The Secretary of Ministry of Climate Change Syed Ahmed Abu Akif, Inspector General Forests Syed Mehmood Nasir, representatives of provincial forestry and planning departments, representatives of ministry of defense, national highway authority, International Union of Conservation of Forests were present in the DNA