UNSC rejects Russia's Gaza ceasefire resolution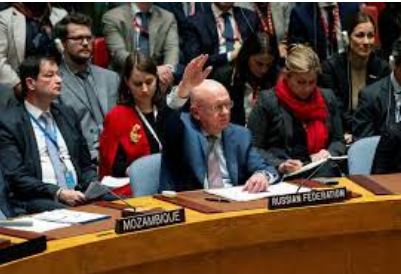 News Desk
NEW YORK: A resolution proposed by Russia calling for a "humanitarian ceasefire" in Gaza and the release of "all hostages" has failed to receive enough votes to be adopted by the 15-member UN Security Council, with members who voted against it or abstained citing its failure to mention Hamas and condemn the group's Oct. 7 attack on Israeli towns.
On Monday, Russia, China, the UAE, Gabon and Mozambique voted in favor, while the US, UK, France and Japan voted against. Brazil, Malta, Albania, Switzerland, Ecuador and Ghana abstained.
The resolution had been backed by the UN Arab Group of countries, whose ambassadors were all present at the council meeting.
A vote on a rival, draft resolution from Brazil was delayed until Tuesday, Arab News has learned.
Russia's resolution expresses "grave concern" at the escalation of violence and the deterioration of the situation, in particular the resulting heavy civilian casualties, underscoring the need for both populations to be protected.
It also expressed grave concern at the deepening humanitarian crisis in Gaza and called for "an immediate, durable and fully respected humanitarian ceasefire."
The draft also condemns "all violence and hostilities directed against civilians and all acts of terrorism," and calls for the "secure release of all hostages."
Russia also called for the unimpeded provision and distribution of humanitarian assistance, including food, fuel and medical treatment as well as creating conditions for the safe evacuation of civilians in need.
Russia's permanent representative to the UN, Vassily Nebenzia, after the vote claimed the council had once again been held "hostage" to the "selfish intentions of the Western bloc of countries."
He said: "Today, the entire world waited with bated breath for the Security Council to take steps in order to put an end to the bloodletting. But the delegations of the Western countries have basically stomped on those expectations. We believe that today's vote in the Security Council is very, very demonstrative. It clearly shows who are in favor of a truce to stop the indiscriminate bombing and provision of humanitarian assistance and who is still in favor of blocking a single common message from the Security Council for purely selfish interests and political interests."
Linda Thomas Greenfield, the US' permanent representative to the UN, said that by failing to mention Hamas, Russia has dishonored the victims of the Oct. 7 attack.
"By failing to condemn Hamas, Russia is giving cover to a terrorist group that brutalizes innocent civilians. It is outrageous, it is hypocritical, and it is indefensible," Thomas-Greenfield said.
She blamed Hamas as solely responsible for the humanitarian crisis in Gaza and said "we cannot allow this Council to unfairly shift the blame to Israel and excuse Hamas for its decades of cruelty. Period."
The US envoy said that Secretary of State Antony Blinken and the White House are engaged in "intensive discussions" with the Israeli government and countries in the region to secure the "immediate and unconditional" release of hostages and facilitate humanitarian access and relief.
 "It is critical that civilians have access to essential food, water, medicine, and shelter. Let me repeat: It is critical," Thomas-Greenfield said, as she called on countries in the region to allow "full, safe, and unhindered humanitarian access in Gaza — in line with the principles of humanity, impartiality, neutrality, and independence."
Lana Nusseibeh, the UAE's envoy, who voted for Russia's resolution, reiterated her country's condemnation of the murder of innocent Israeli civilians and the taking hostage of children, and said that Hamas does not represent the people of Gaza who are "suffering tremendously today."
"And that is why Council unity is so desperately needed on this file," Nusseibeh said, as she emphasized the dire humanitarian situation in Gaza. "We believe this council should be able to find unity on two things: International humanitarian law must be upheld, indiscriminate attacks must be rejected and are unjustifiable, and the cycle of violence overall must end.
"The events of the last nine days have made it painfully clear that without a determined political horizon, the specter of bloodshed will continue to haunt both Israelis and Palestinians."
Evoking the late Palestinian poet Mahmoud Darwish, she said that "a life only defined by the absence of its antithesis, death, is no life at all.
"Palestinians and Israelis deserve not only to live which is the bare minimum, but to thrive, side by side in their own independent, prosperous and secure states."
China's UN representative Jhang Zun, who also voted in favor of Russia's resolution, expressed regret that council members failed to vote on the draft which had garnered support from the UN Arab Group.
"Humanitarian issues should not be politicized," he said.