UN should take cognizance of Indian atrocities in Kashmir: AJK President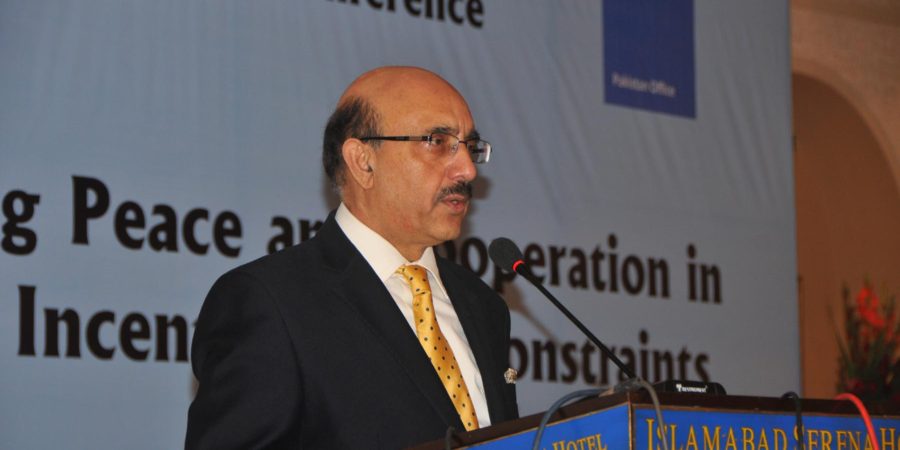 ISLAMABAD, NOV 23 (DNA) -Even if there is some lull, Indians won't let us forget. Peopel of Kashmir  have decided not to be a part of India.'
This was stated by Sardar Masood Khan, President, Azad Jammu & Kashmir, Muzaffarabad while delivering his keynote address at the international conference on 'Strengthening Peace and Cooperation in South Asia- Incentives and Constraints' organized by the Islamabad Policy Research Institute and Hanns Seidel Foundation.
The Security Council has double standards for Syria, Yemen, North Africa and whole of Africa, but it pays no attention to the issue of Kashmir.
The UN Security Council is not holding any debate despite ruthless killings in Kashmir by ISF.
But we should make a transition from helplessness and despondence to success. If the two nuclear powers i.e. India and Pakistan decide to go to war, it will be a disaster not only for both the countries and SAR but for the whole world.
One area where India has beaten us – the Kashmiris, Pakistanis, and the diaspora – is in the domain of communication. 'They get away with murder because the world has bought their lies, but is not ready to believe our truth,' said President AJK.
India has frustrated and obstructed Pakistan's keen overtures towards peace and reconciliation, repeatedly. It has literally set Kashmir on fire. With thousands injured, mutilated and hundreds killed or kidnapped, there can be no confidence building measures. We are chasing a mirage. President Khan warned that no regional cooperative pacts or deals can work if the Kashmir issue, burning at the core of South Asia, is not resolved. Kashmir cannot be swept under the carpet, he said.
He urged the international community to pay immediate attention to stop killings and torture of the people who are demanding their right to self-determination. Kashmiris have stood up to break the cycle of Indian subjugation, and their demand for self-determination is not rhetoric,rather a legitimate right.
'The freedom struggle is indigenous being carried out by unarmed young men and women, he emphasized, and called on the younger generations of Pakistan and South Asia to raise their voices and use social media to open the world's eyes to Indian brutalities. SardarMasood Khan said that the UN resolutions on Kashmir would remain valid until they were implemented in
Dr. Syed Rifaat Hussain, Professor, Government and Public Policy, School of Social Science and Humanities, National University of Sciences and Technology (NUST), Islamabad, concluded that there are unprecedented levels of tension between India and Pakistan, making the South Asian region hostage.
The power structure of South Asia is dominated by India by the virtue of its geography, size, military might, which gives itan unfair advantage and gives it the space to browbeat its neighbours. If India wants to be the leader of SA, then it must treat small countries in the region with respect and abandon its hegemonic designs. 'We need to learn to unlearn the habit of destabilizing each other,' he stressed.
Dr. Severine Minot, Visiting Assistant Professor from Habib University, Karachi, questioned the term 'major powers' as being other nation states and  proposed that majors powers were more precisely stakeholders governing global finance and the military-industrial apparatus.
Dr. Shabir Ahmed, Associate Professor, Area Study Centre from Peshawar University in his presentation on 'Prospective Role of Regional Organizations (SAARC and SCO)' highlighted that SAARC has so far failed to address and settle the issue of Kashmir, however, SCO as a security organisation having vast experience of resolving border disputes can play a vital role in in this case and pave the way for regionalism in South Asia.
Ambassador (Retd.)Sohail Amin, President of IPRI, called on South Asian governments to resolve their longstanding territorial/political disputes on priority basis by using bilateral and multilateral institutional frameworks.
'While there are several constraints on developing cooperation, the incentives are far greater.'The role of regional organisations, such as SAARC, Economic Cooperation Organisation (ECO) and Shanghai Cooperation Organization (SCO), with overlapping membership of India and Pakistan, can be significant.=DNA
============