Tried to lay foundation of welfare state despite economic crisis: PM Imran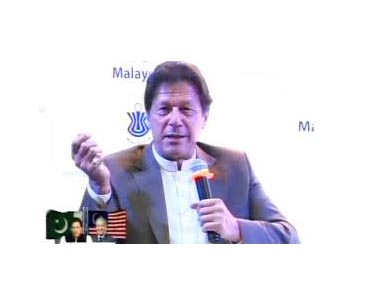 PUTRAJAYA FEB 04 (DNA) :  Prime Minister (PM) Imran Khan on Tuesday said that his party Pakistan Tehreek-e-Insaf (PTI) has tried to lay foundation of welfare state despite economic crisis.
While addressing the Advanced Islamic Studies Institute, the premier assured to eliminate the difference between rich and poor, adding that no one is superior to law as per State of Madina rules.
Madina became the first welfare state of the history of mankind where rule of law prevailed, he added.
He said we have started first time health insurance for weaker section of the society and six million families have been given health insurance.
He said 200 shelter homes have been set up in the country to provide roof and food to the homeless people.
He said a big amount has been allocated for poverty alleviation, and several initiatives, including cash handout, skill development, loans, and scholarships, are being launched under Ehsas programme to uplift the lower strata of the society.
---
PM Imran, Mahathir address press conference
---
Pakistani Prime Minister Imran Khan and his Malaysian counterpart Mahathir Mohamad have pledged to continue boosting cooperation in every field.
While jointly holding a press conference after delegation-level talks, PM Imran said that he is regretted for not attending the Kuala Lumpur Conference. The world was having wrong perception that the summit will divide Muslim community, he added.
PM Imran said that we are agreed to build a strong economic partnership.
The premier further thanked Malaysian counterpart for fearlessly raising occupied Kashmir issue on every forum. He said unfortunately a very radical and extremist government has taken over India which has put the Kashmiri people in an open prison.
He said it is important for the Muslim countries to educate the western world and non Muslim countries about the true teachings of Islam. He said we are working on a joint media that not only projects the positive image of Islam and fight Islamophobia but also educate the young Muslim generation about Islam.
In his remarks, Malaysian PM Mahathir Mohamad said Pakistan and Malaysia have multifaceted relations and this visit of Prime Minister Imran Khan reflects the commitment to further promote these relations.
He said we have set a stage for a new phase in the relationship saying his country will continue to foster and deepen relations with Pakistan.
Mahathir Mohamad said we also discussed the current situation in Muslim Ummah including the Palestine. He said we have agreed to increase the collaborative efforts to uphold the true values of Islam and promote the solidarity of Muslim Ummah.
---
Pakistan, Malaysia sign MoU regarding exchange of prisoners
---
Meanwhile, Malaysian law minister and Foreign Minister of Pakistan Shah Mehmood Qureshi also signed an agreement regarding exchange of prisoners between both countries.
---
PM Imran, PM Mahathir hold delegation-level talks
---
Earlier today, PM Imran and PM Mahathir deliberated upon the entire spectrum of bilateral relations and ways and means to further expand their relations in different sectors including trade, economy and tourism.
During the visit, PM Imran has highlighted the dire human rights and humanitarian situation in occupied Kashmir, emphasize the importance of averting risks to regional peace and stability posed by Indian belligerence, and underscore the importance of peaceful resolution of Kashmir dispute.