EU leaders react as UK PM Theresa May officially triggers Brexit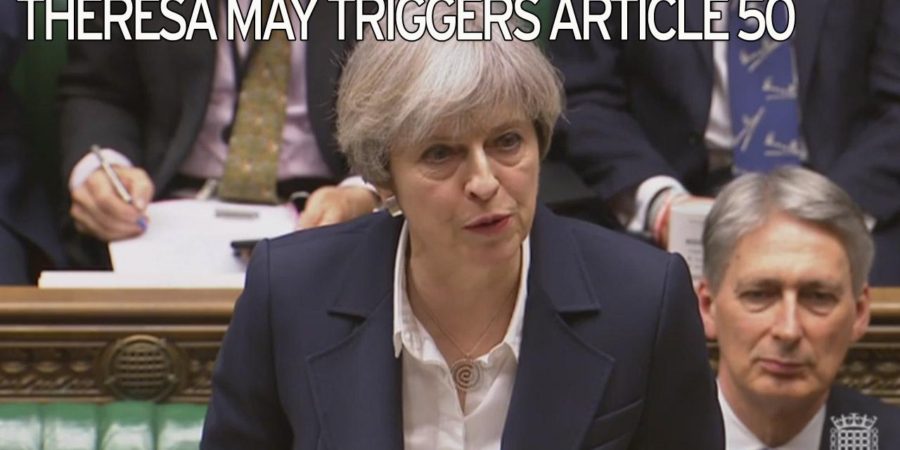 MAR 29, (DNA) – "After nine months the UK has delivered," declared EU Council President Donald Tusk in a portentous tweet on receipt of the letter triggering Brexit from Prime Minister Theresa May.
The tone of his speech in Brussels was full of regret. There was "no reason to pretend that this is a happy day" in Brussels or London, he added. "We already miss you."
Looking on the bright side, he said there was "also something positive" about Brexit as it had made the 27 states remaining in the EU more determined and united than before.
May hails 'historic' Brexit moment
That mood of regret tinged with defiance was echoed by a tweet from European Parliament President Antonio Tajani: "Today isn't a good day. #Brexit marks a new chapter in our Union's history, but we're ready, we'll move on, hoping UK remains close partner."
French President Francois Hollande meanwhile said that while Brexit was "sentimentally painful" for Europe it would be "economically painful" for Britain,
But Mr Hollande also said there was no intention to "punish" Britain "for the principle".
Our Brexit team is ready. We will work for EU27 member states, EU institutions & citizens; together with all Commission servicesImage copyright@MICHELBARNIER
"It will end with a trade agreement between Great Britain and Europe, we hope that it's the best trade agreement possible," he said during a visit to Indonesia.
In Berlin, German Chancellor Angela Merkel struck a pragmatic tone. She said Germany and other EU states "certainly didn't want this day to come, because we're losing a strong and important member state.
"But naturally we accept the democratic decision of the British voters, and with the triggering of Article 50 we now have greater clarity about how the British side envisages the way ahead and which goals Britain wants to pursue in the negotiations."
Mrs Merkel also stressed the need to protect EU citizens living in Britain.
It was a day to pop champagne corks for UK Independence Party (UKIP) MEPs in Brussels
A more bitter response came from another leading German politician, Manfred Weber, chair of the centre-right EPP Group in the European Parliament.
Pointing the finger at British politicians who had campaigned for Brexit, he complained that they had had the chance to grow up in a free Europe but now they were erecting walls.
"EU has done everything to keep the British. From now on, only the interests of the remaining 440 million Europeans count for us," he tweeted.
10 areas that will shape the Brexit talks
French far-right MP Marion Maréchal-Le Pen had nothing but praise for the British move: "The British people have rediscovered their liberty," she tweeted, adding that her party, the National Front, would offer France its own go at independence.
Emmanuel Macron, the centrist French presidential candidate, said he believed Britain and the EU needed to maintain a close relationship, especially in defence.
He was speaking after meeting London Mayor Sadiq Khan and noted that some 200,000 French citizens live in the UK capital.
"Some of them will decide to come back, I will be very happy to host them again," he said in English. "But, obviously, we will work together with the UK and we will work together with London because they live there."
'Can't have your cake and eat it'
Dutch Foreign Minister Bert Koenders was clear as to what Britain could expect from a deal.
He told, he doesn't want a "fighting divorce" with the UK, but rather one "in which the bills are paid and our citizens are treated well".
However he added: "But you can't have your cake and eat it and I think the British government knows it. You can never get a better deal outside the EU than inside the EU."=DNA
=================