Rwanda is a great place to invest with business friendly policies: James KIMONYO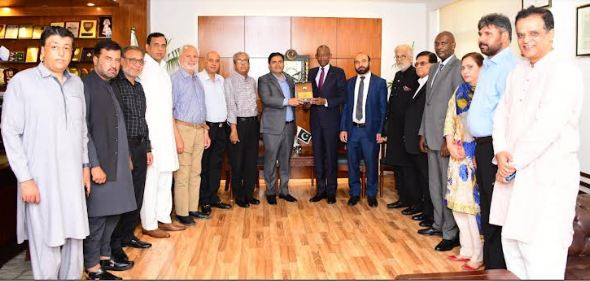 ISLAMABAD (DNA) High Commissioner of Rwanda to Pakistan, James KIMONYO, has said that Rwanda is the best investment destination for Pakistan's business community with its peace, business-friendly environment and transparency.Rwanda can be a launching pad for Pakistan in the Central Africa region. This region is a vast market with 30 crore people and 8 countries.Rwanda has overcome the difficulties of the past to become a strong and fast developing country. The private sector has a big hand in the economic development of Rwanda. I invite the business community of Pakistan to invest in Rwanda and the embassy will provide full support in this regard. He expressed these views while talking to President Ahsan Zafar Bakhtavari on the occasion of his visit to Islamabad Chamber on Wednesday.On this occasion, Pakistani High Commissioner for Rwanda Naeem Khan and Defense Attaché of Rwanda were also present with him.Ambassador James KIMONYO said that Rwanda has pulled itself out of difficult situations in the last 20 years due to continuity in policies and strong leadership.Our country has left the conflicts and rebellions of the past far behind. Rwanda has now become the best place for investment, business and tourism not only in Africa but also in the whole world. He said that I invite the Pakistani business community to take advantage of the business-friendly environment of Rwanda. There are many possibilities to take the trade relations between Pakistan and Rwanda to new heights.
Speaking on this occasion, President Islamabad Chamber of Commerce and Industry Ahsan Zafar Bakhtawari said that the development of Rwanda in just 20 years after the long civil war is an example for Pakistan.At present, the volume of mutual trade between Pakistan and Rwanda is 34 million dollars, in which Pakistan's share is only 4 million dollars.This trade volume is far below the potential of both countries. It needs to be at least doubled in the next few years.He said that pharmaceuticals is a sector in which Pakistan has the most investment opportunities.Apart from this, sectors like sports goods, leather, textile and construction can also play an important role in improving the trade relations between Pakistan and Rwanda. Pakistan's defense export sector has a unique position in the world. Rwanda should take advantage of it. Both Pakistan and Rwanda have faced security challenges in the past.Now both countries have come out of it. Both countries can benefit from each other's experiences.
Pakistan High Commissioner in Rwanda Naeem Khan said that there has been satisfactory progress in the relations between Pakistan and Rwanda in recent times. As Pakistan's High Commissioner, improving trade relations is one of my priorities.We have decided to build a display center in the building of the Pakistan High Commissioner in Kigali, which will house the products of Pakistan.He said that the High Commission will play its role for the B2B and one-to-one meetings of Pakistan's trade delegation.
On this occasion, Vice President Chamber Engineer Azhar Islam said that it is necessary to continuously exchange business delegations to evaluate business opportunities between the two countries. In this regard, the diplomatic staff posted in both countries should play their role. Speaking on the occasion, Honorary Consul General of Rwanda in Pakistan Farooq Azam Khawaja said that Rwanda's business-friendly environment is the best in Africa.International organizations praise the transparency of Rwanda's system.Relations between Pakistan and Rwanda are improving.In the last 2 years alone, more than 200 people from different fields have migrated to Rwanda with their families.Secretary General UBG Zafar Bakhtawari, Tuseef Rehman, Humayun Kabir and others also participated in the meeting.