Russian forces pound key cities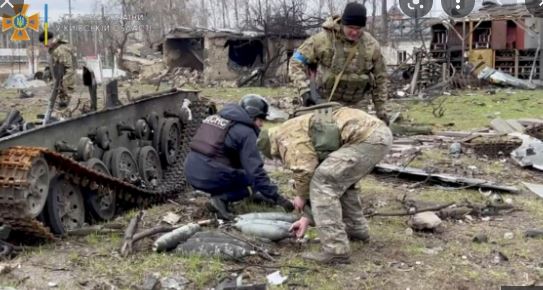 News Desk
LVIV: Artillery pounded key cities in Ukraine on Wednesday, as its president urged the West to act decisively in imposing new and tougher sanctions being readied against Russia in response to civilian killings widely condemned as war crimes.
Western sanctions over Russia's invasion have gained new impetus this week after dead civilians shot at close range were found in the town of Bucha after it was retaken from Russian forces.
"When we are hearing new rhetoric about sanctions… I can't tolerate any indecisiveness after everything that Russian troops have done," Zelenskiy told Irish lawmakers by videolink.
On Wednesday, to the south, a siege of the southern port of Mariupol – under bombardment through most of the invasion that began on Feb. 24 – continued, trapping tens of thousands of residents without food, water or power.
"The humanitarian situation in the city is worsening," British military intelligence said on Wednesday, while Ukraine's Deputy Prime Minister Iryna Vereshchuk said people trying to flee would have to use their own vehicles. read more .
The International Committee of the Red Cross said its team has successfully led a convoy of buses and private cars with more than 500 Mariupol residents to nearby Zaporizhzhia after the civilians fled on their own.
Vereshchuk said authorities would try to evacuate civilians trapped elsewhere through 11 humanitarian corridors.
Ukraine's foreign minister said that, while he welcomed the latest set of EU sanctions, only an embargo on Russian gas and oil and cutting off all Russian banks from the global financial system could halt the war.
"It will take a gas/oil embargo and de-SWIFTing of all Russian banks to stop Putin. Difficult times require difficult decisions," Dmytro Kuleba said on Twitter.
Since pulling back from outside Kyiv last week, Russian forces have shifted their assault towards Ukraine's south and east.
Ukraine's general staff said the northeastern city of Kharkiv, the country's second-largest, remained under attack, while authorities in the eastern region of Luhansk urged residents to leave an area it also expects to be the target of a new offensive.