Religious leaders unite in joint appeal for ceasefire and humanitarian aid in Gaza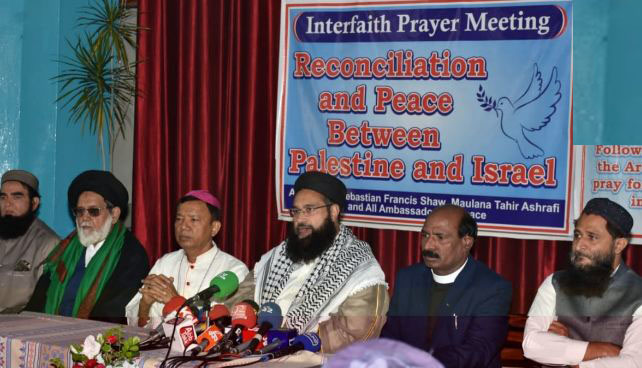 LAHORE, NOV 13 /DNA/ – Religious leaders from across the nation, representing diverse faiths and beliefs, on Monday joined forces to make a global appeal for an immediate end to Israel's aggression and brutality in Gaza. Addressing a unified audience at the Palestine Conference here at Cathedral Church, they urged the world powers to immediately play their role in ending the persecution of the oppressed Palestinian people.
Pakistan Ulema Council Chairman, Hafiz Muhammad Tahir Mahmood Ashrafi, and Archbishop Dr. Sebastian Francis Shaw were among the prominent figures who emphasized that the ongoing situation in Gaza was not a matter confined to followers of any specific religion but a violation against humanity itself. Ashrafi who is also the Special Representative to the Prime Minister on Religious Harmony and the Pakistani Diaspora in Middle East and Islamic Countries, stated that Saudi Arabia and the Muslim world were actively playing their role against Israeli aggression, urging the global community to step forward to end Israeli oppression.
He stressed the need for international solidarity to halt Israel's atrocities and called for an immediate ceasefire to stop the bloodshed in the Gaza Strip so that relief operations could be started in the region. According to a report of United Nations, 300,000 people of Gaza did not have food, water or medicine, he added. Ashrafi warned, "If this war spreads, everyone from Lebanon to Syria will be under its influence and it will harm mankind." He highlighted the humanitarian crisis in Gaza, where even hospitals had not been spared from Israeli airstrikes and added 12,000 people including 4,000 children had been martyred in Israeli aggression. Archbishop Sebastian Francis Shaw urged the world to raise its voice against the ongoing conflict in Gaza and called for initiatives to provide aid to the affected population.
He said innocent children, women and churches were targeted in Gaza. Syed Kazim Raza Naqvi said the Islamic world must take steps beyond appeals. He said innocent children and churches were being attacked which was inhumane and against the principles of war. He appealed to all the Islamic countries to establish an immediate ceasefire in Gaza. Maulana Asim Makhdoom, Pastor Emmanuel Khokhar, Maulana Muhammad Aslam Siddiqui, Hafiz Kazim Raza, Maulana Asadullah Farooq, Maulana Muhammad Aslam Qadri, Maulana Mubashir Rahimi and others also addressed the conference.
They concluded with a joint appeal for an immediate cessation of hostilities, humanitarian assistance for the people of Gaza, and intensified efforts to end the injustice inflicted by Israel. The religious leaders emphasized the responsibility of the United Nations, Europe, America, Britain, and the Organization of Islamic Cooperation to play a decisive role in resolving the crisis and bringing about lasting peace in the region.