President assures Pakistan's continued support to Maldives in all fields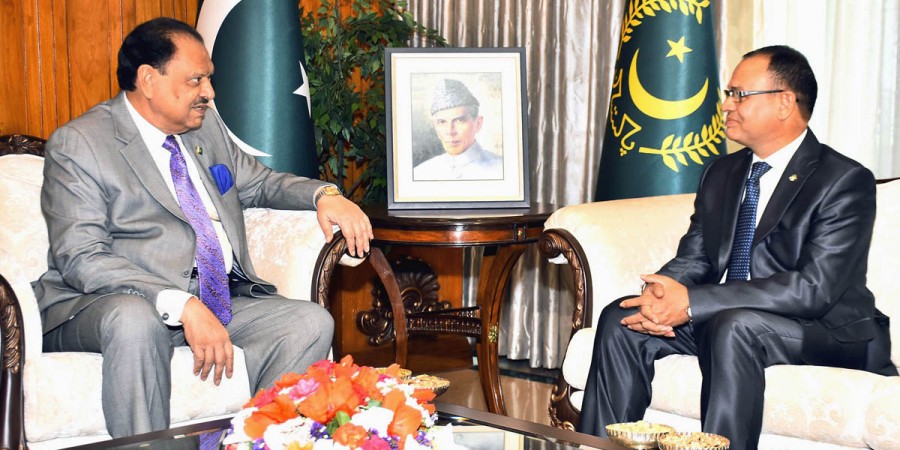 ISLAMABAD, 26 MAY (DNA) – Expressing his satisfaction at the existing bilateral relations between Pakistan and Maldives, President Mamnoon Hussain has assured of Pakistan's continued support to Maldives in all fields.
He was talking to Defence and National Security Minister of Maldives Adam Shareef Umar in Islamabad on Thursday.
High Commissioner of Maldives to Pakistan Mr. Ahmed Saleem was also present on the occasion.
President Mamnoon stated that the two countries have long-standing friendly bilateral relations and noted with satisfaction that both have been supporting each other at international forums on all issues. The President expressed his optimism that relations between the two countries will expand further and grow stronger in the future.
President Mamnoon expressed his satisfaction at the close cooperation between the two countries in the field of defence noting that Pakistan is providing training facilities to Maldivian officials. President Mamnoon said that Pakistan has made tremendous strides in defence production and stated that several countries are evincing keen interest in buying Pakistani Super Mushak and JF-17 Thunder aircrafts which are of highest international standards.
Defence and National Security Minister of Maldives Mr. Adam Shareef Umar thanked Pakistan for continued multidimensional support and stated that the two Muslim brotherly countries have had very cordial and trouble free relations since the last 50 years.
The Defence Minister appreciated that Pakistan has always offered unconditional help and particularly recalled the assistance provided by Pakistan during his country's difficult times.
Adam Shareef Umar said that he is highly impressed by the quality of defence items produced in the Pakistan Ordinance Factories (POF), which are comparable to similar products of the developed countries.
The Maldivian Defence Minister said that he feels at home in Pakistan and is particularly impressed by the friendly and loving nature of the people of Pakistan. He appreciated Pakistan's achievements in the fight against terrorism and said that his country would like to benefit from Pakistan's expertise and experience in this regard.
The President wished the visiting dignitary a comfortable and productive stay in Pakistan and expressed his best wishes for the President and people of Maldives. DNA