Police tear gas protesters en route to Islamabad from KP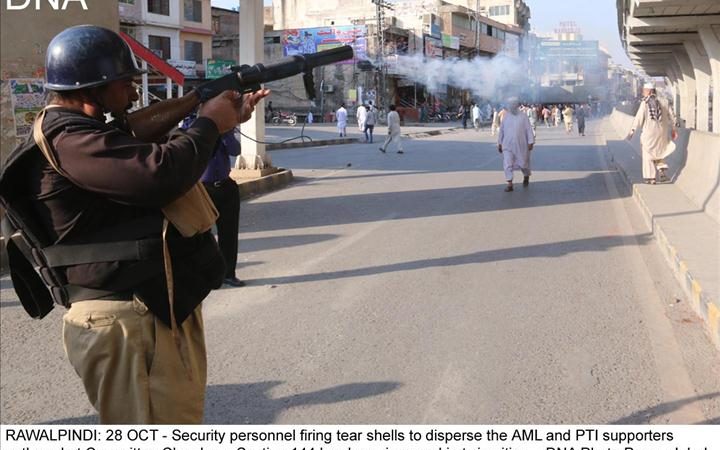 Police and Frontier Constabulary personnel used tear gas shells to disperse thousands of Pakistan Tehreek-i-Insaf (PTI) protesters in Khyber Pakhtunkhwa's Swabi en route to Islamabad on Monday to join the party's planned Nov 2 'lockdown' of the capital.
Around 5,000 stick-wielding party workers are trying to remove barricades put in place by police using cranes near the Swabi Interchange, while law enforcement personnel are using tear gas shelling and rubber bullets to stop the protesters.
The PTI protesters have vowed to move on undeterred towards the federal capital, they are trying to remove containers using cranes as the night falls.
TV footage showed protesters fleeing from clouds of tear gas after leaving the cranes where they were.
Some protesters also fainted due to the shelling, while others were injured by rubber bullets. Those affected were taken to hospitals.
The area is an hour and a half's drive away from the capital.
PTI leaders Arif Alvi and Imran Ismail were released after a brief detention by Islamabad police on Monday.
The two men were taken into custody near Imran Khan's Bani Gala residence after they threatened to launch a sit-in in the area to protest the arrests of party workers, according to media reports.
Shortly after, the interior ministry ordered the release of the two leaders, ministry sources told.
TV footage showed dramatic scenes as police officers pushed the MNA toward a van and Arif Alvi resisted. Police officers wrestled with Alvi who, at one point, also fell to the ground, but police succeeded in pushing him into the hi-roof van.
Imran Ismail on Twitter said he was "arrested brutally". The PTI leader tweeted a selfie from inside the van in which the two were smiling.