PM Shehbaz in Ankara as Erdogan set to be sworn in as Turkish president today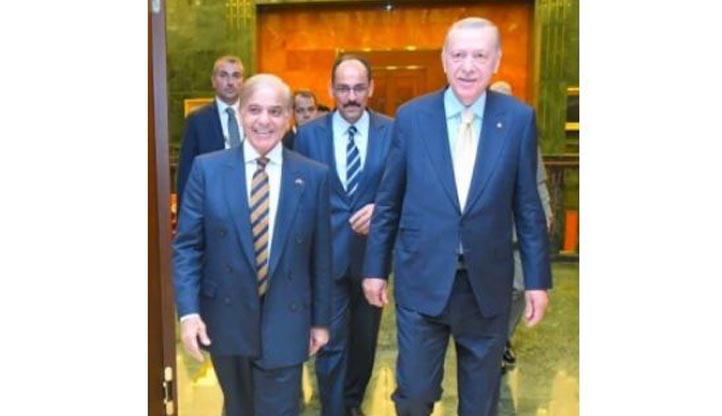 ANKARA, JUN 3: President Recep Tayyip Erdogan is set to be sworn in on Saturday as head of state after winning a historic runoff election to extend his two-decade rule for another five years as Turkey's economic woes worsen.
Among several other world leaders, Prime Minister Shehbaz Sharif also landed in the capital Ankara a day earlier to attend Erdogan's inauguration in the parliament which will be followed by a lavish ceremony at his palace.
Turkey's transformative but divisive leader won the May 28 runoff against a powerful opposition coalition and despite an economic crisis and severe criticism following a devastating February earthquake that killed more than 50,000 people.
Erdogan won 52.18 per cent of the vote while his secular rival Kemal Kilicdaroglu 47.82pc, official results show.
Turkey's longest-serving leader faces immediate and major challenges in his third term driven by a decelerating economy and foreign policy tensions with the West.
"From a geopolitical point of view, the election will reinforce Turkey's recent pursuit of an independent foreign policy," said Matt Gertken, chief geopolitical strategist at BCA Research.
"This policy aims to extract maximum economic and strategic benefits from eastern and autocratic states while still preventing a permanent rupture in relations with western democracies," he said.
"Tensions with the West will likely increase again, within that framework, now that Erdogan has a new mandate."
PM Shehbaz lands in Ankara
PM Shehbaz landed in Turkiye late Friday night on a two-day visit to attend the inauguration ceremony.
A video shared by the government showed the premier being greeted by officials of the Turkish foreign ministry and Pakistan's mission in Turkiye. He was accompanied by a delegation comprising Minister for Information and Broadcasting Marriyum Aurangzeb and Special Assistant Tariq Fatemi.
According to state broadcaster Radio Pakistan, the PM will also interact with Turkish investors and the business community.
During his visit, Chairperson Limak Holdings Ebru Ozdemir called on Shehbaz to "explore available opportunities in construction infrastructure and energy sector", Aurangzeb said in a tweet.
Sharing pictures and a video from the exchange, she added that the businesswoman will be coming to Pakistan soon along with a delegation to contribute towards expanding trade and investment between the two countries.
The minister further said Ozdmeir also shared the details of a "unique and inspiring project", Global Engineer Girls (GEG), which is an international philanthropic initiative to inspire the next generation of female engineers and provide girls and women with education, mentorship and career opportunities.
"The initiative in Pakistan will encourage, educate and enable girls and women to gain experience and pursue careers in science, technology, engineering, and mathematics," Aurangzeb said.
In the video shared by her, Shehbaz can be seen congratulating Ozdemir on the "wonderful victory for President Erdogan", to which the latter responded she was glad about the huge victory. The PML-N also shared a video showing glimpses of the meeting between the two delegations.
Prior to leaving for Turkiye, Shehbaz said, "I will convey our warmest greetings to the president on behalf of the government and people of Pakistan on his re-election.
"The fraternal ties between Pakistan and Türkiye are set to deepen further in line with our shared resolve and common destiny," he added.
Referring to the upcoming 7th meeting of the High-Level Strategic Cooperation Council in Islamabad, the premier said it will "provide the right avenue to take the momentum of our strategic partnership forward".
"We have yet to unlock the potential of our multifaceted relationship and efforts are being made in that direction."
Biting economy
Addressing the country's economic troubles will be Erdogan's first priority with inflation running at 43.70pc, partly due to his unorthodox policy of cutting interest rates to stimulate growth.
Late on Saturday, the president is due to unveil his new cabinet with media speculating that former finance minister Mehmet Simsek, a reassuring figure with international stature, could play a part.
A former Merrill Lynch economist, Simsek is known to oppose Erdogan's unconventional policies.
He served as finance minister between 2009 and 2015 and deputy prime minister in charge of the economy until 2018, before stepping down ahead of a series of lira crashes that year.
"Erdogan's government looks like it will pursue an orthodox stabilisation programme," said Alp Erinc Yeldan, professor of economics at Istanbul's Kadir Has University.
"What we see now is that the news about Mehmet Simsek and his team is greeted with enthusiasm by the markets," he told.
Turkey's new members of parliament started being sworn in on Friday in the first session after the May 14 election, also attended by Erdogan.
His alliance holds a majority in the 600-seat parliament.
Erdogan's victory came against a unified opposition coalition led by Kilicdaroglu, whose future as leader of the CHP party remains in doubt following the defeat.