PM inaugurates western route of CPEC in Zhob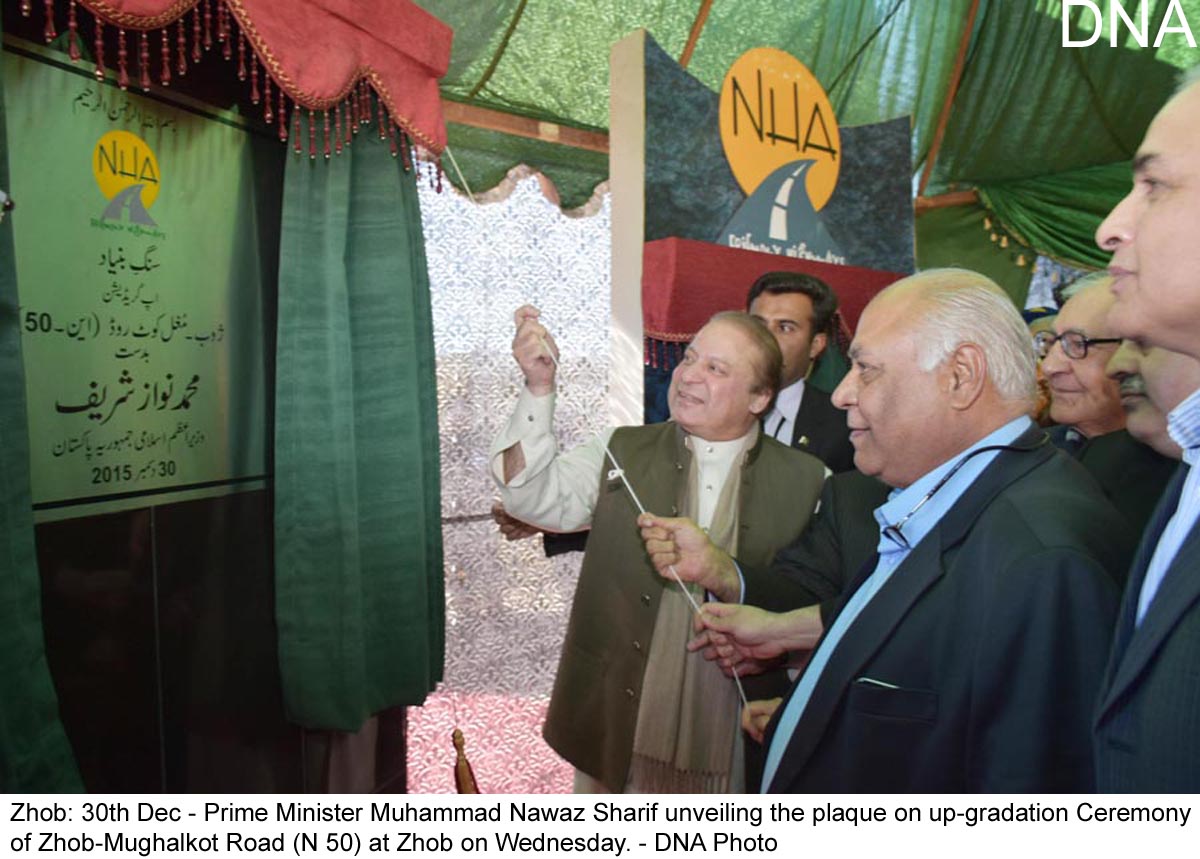 QUETTA: Prime Minister Nawaz Sharif inaugurated the western route of the China Pakistan Economic Corridor (CPEC) in Balochistan's Zhob on Wednesday and laid the foundation stones of two key projects: upgradation of the Zhob-Mughal Kot section of the Dera Ismail Khan-Qila Saifullah Highway (N-50) and the Qilla Saifullah-Waigam Rud Road section of the Multan-Dera Ghazi Khan-Qilla Saifullah Highway (N-70).
The Zhob-Mughal Kot Section is part of the western route of the CPEC which starts from Burhan on the Peshawar-Islamabad motorway (M-1), and after moving through DI Khan, Zhob, Quetta, Surab and Hoshab, ends at Gwadar.
The Zhob-Mughal Kot section is 81 kilometres (km) long and its upgradation will cost Rs9 billion, and is expected to be completed by 2018. The Qilla Saifullah-Waigam Rud section is 128km long and will cost around Rs 8bn.
The prime minister was also briefed on the projects. Chairman National Highway Authority Shahid Ashraf Tarar while addressing the inauguration ceremony said motorways and expressways in Pakistan in the next three years will span lengths thrice as long as they currently are.
From Khunjerab to Gwadar, all areas will be connected by means of motorways, he said, adding that the routes would make it easier for traders to access markets.
Addressing attendees at the inaugural ceremony, the premier urged all political forces to create a united front in order to eradicate the curse of terrorism from the country. "I cannot do it alone," PM Nawaz emphasised.
The premier said the project would open new vistas of development and prosperity in the region. "The country will progress after this project," he stated. "Pakistan's progress will start from Balochistan."
Nawaz emphasied that Balochistan's development was his government's top priority, and that the province played a crucial role in the development of the country.
He also briefly referred to the progress made with India in the matter of bilateral negotiations. PM Nawaz thanked the Indian prime minister for visiting Pakistan. "It has been agreed that we will re-start the dialogue between Pakistan and India," he said.