PIA employees not submitting, flight opt suspended on 4th day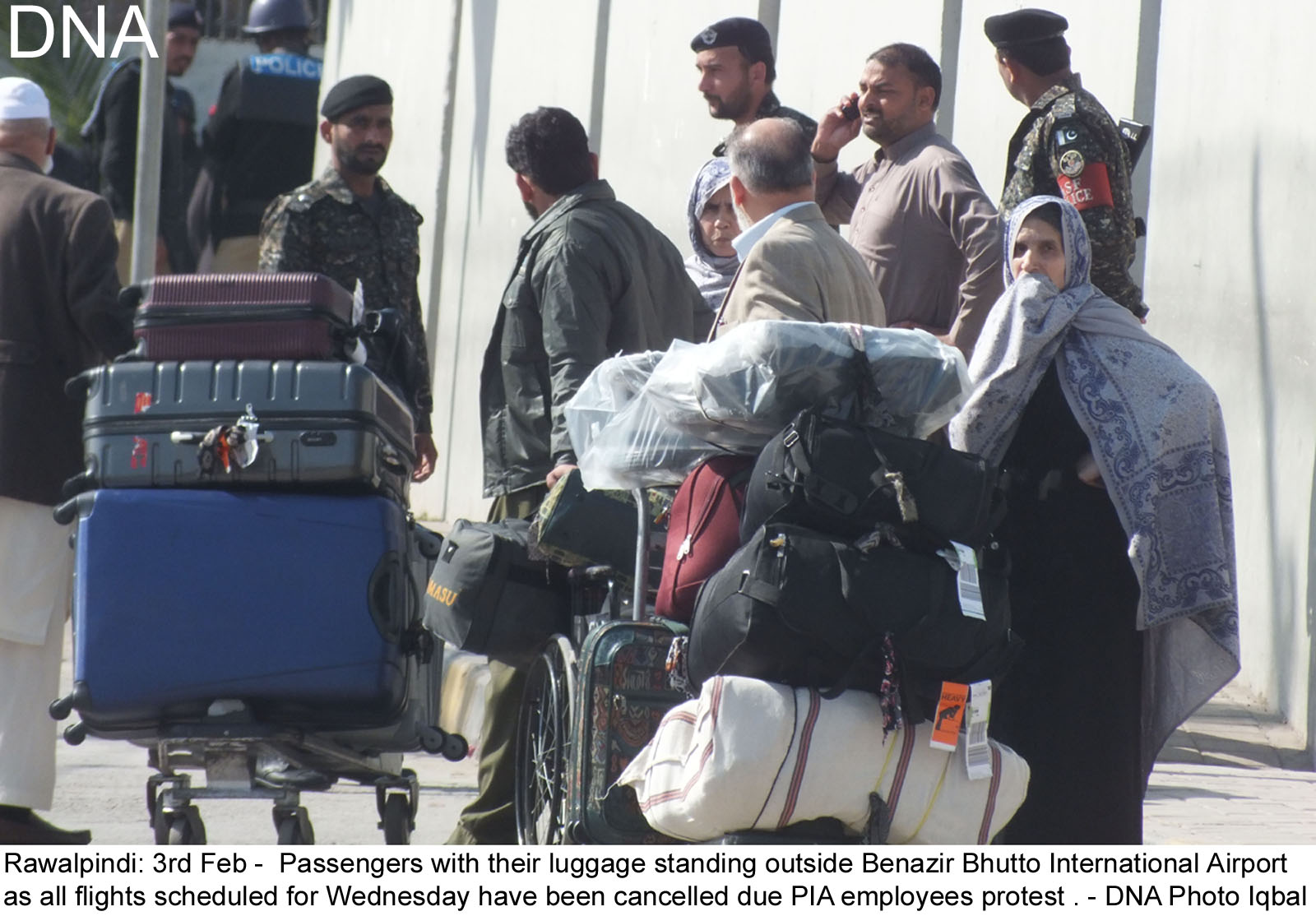 KARACHI, 05 FEB (DNA) – Protest staged by Pakistan International Airlines (PIA) employees is ongoing on the fourth day against privatization of the company on Friday.
Another dozens of flights have been cancelled today while the national airlines have bore losses worth billions of Rupees in the last three days. Flight operations are frozen in different cities including Lahore, Karachi, Islamabad and Peshawar. Offices of the company are locked on the fourth consecutive day.
A meeting chaired by Prime Minister (PM) Nawaz Sharif reviewed the crisis and discuss options that the government has in the matter. The meeting discussed possibility of returning aircrafts acquired on lease and establishment of a new company by name, Pakistan International Airways.
On the other hand, case against two killings during employees' protest on February 2 has not been registered yet despite court's order. Joint Action Committee (JAC) Chairman Sohail Baloch's statement has been recorded in this regard.
However, Sindh Police could not make a decision over registration of case even after six-hour-long discussion. On February 2, two employees of Pakistan International Airlines were gunned down as they rallied towards Jinnah terminal among scores of protesting colleagues.
Rangers and police were deployed to counter violent protests however, bullets fired by alleged unidentified miscreant claimed the lives. Initially, the law enforcement agencies were alleged of opening the fire however, the departments denied the accusations.
On Thursday, Pakistan Rangers released a video of the crime scene that highlighted a masked man who allegedly opened fire. The paramilitary force has urged the locals to help identify the culprit. The government got humongous flak after news of PIA workers' killing surfaced.
Pakistan Tehreek-e-Insaf (PTI), Pakistan People's Party (PPP), Jamaat-e-Islami (JI) among other parties denounced the government for allegedly depriving people of right to protest and 'torturing' them.
Jamaat-e-Islami chief Sirajul Haq on Thursday said that Prime Minister Nawaz Sharif would not be allowed to become 'king' of the country and government does not reserve the right to remain in power any longer. PTI chairman Imran Khan along with Khyber Pakhtunkhwa (KP) Chief Minister (CM) Pervez Khattak joined the sit-in protest held by PIA employees on February 04.
Khan expressed solidarity with the protesters and vowed to support them on every platform. Rangers Director General (DG) formed a committee to probe the incident. Separately, opposition in the Sindh Assembly demanded establishment of a judicial commission to find facts and bring culprits to light.
The national airlines is to be privatized six months from now as the government had postponed the process owing to the protests and tensed situation. Pakistan is to privatize PIA, Pakistan Steel Mills (PSM) and State Life Insurance Corporation of Pakistan (SLIC) in 2016 under International Monetary Fund's (IMF) economic reform package. A blueprint of the privatization that was provided to the IMF shows privatization of the debt-laden companies in 2016. DNA