PDM sit-in: Maryam says country's 'progress, destruction' linked to SC decisions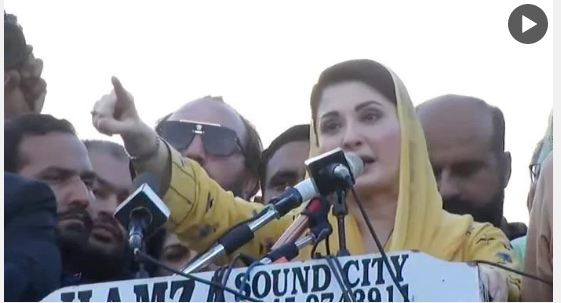 ISLAMABAD, MAY 15: To protests against the judiciary for providing "blanket relief" to Pakistan Tehreek-e-Insaf (PTI) Chairman Imran Khan, the ruling Pakistan Democratic Movement (PDM) has staged a sit-in outside the Supreme Court with its leadership in attendance at the venue.
Protesters, comprising workers and supporters of Jamiat Ulema-e-Islam-Fazl (JUI-F), have already reached the federal capital with many making an entrance into the Red Zone, despite Section 144 still in effect in the federal capital.
Maulana Fazlur Rehman, the chief of PDM — a ruling alliance of 13 political parties, on Friday had announced to stage the sit-in outside the Supreme Court against Chief Justice of Pakistan (CJP) Umar Ata Bandial for facilitating Khan.
6.35pm — Maryam says country's progress, destructions linked to SC
Addressing the protesters, Maryam said the ruling PDM did not want to stage sit-in outside the Supreme Court as they respect the Constitution and judges.
"[The] country's progress and destruction linked to this building. The decisions of the judiciary are responsible for the destruction of the country," she added.
She also clarified that her criticism was not aimed at the judges but those elements in the apex court "facilitating" PTI chief Imran Khan.
Addressing Chief Justice Umar Ata Bandial, Maryam said: "Are you happy to see this sea of people or not?"
Referring to the recent violent protests following Khan's arrest, Maryam said it was the responsibility of the judiciary to hold accountable those elements spreading chaos and anarchy in the country.
The ruling party lamented that elected prime ministers were sent packing by the judiciary in the past and the supremacy of the parliament was not respected.
Besides Khan, Maryam said the chief justice is also responsible for the anarchy that has engulfed the entire country.
Maryam said at a time when the military was not ready to impose martial law and standing with democracy, judicial martial law had been imposed in the country.