Pakistan urges India to end bloodshed in IHK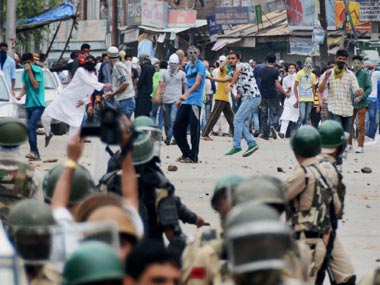 ISLAMABAD: The Foreign Office on Thursday urged the Indian government to listen to the international community and end bloodshed in India-held Kashmir (IHK).
The spokesperson for the Foreign Office, Nafees Zakaria, also asked the United Nations to send a fact-finding mission to IHK in order to investigate human right abuses.
During the FO's weekly briefing, the spokesperson also shared details of the letter written by Prime Minister Nawaz Sharif to the UN regarding IHK.
"The prime minister has written another letter to the UN Secretary General apprising him of the deteriorating situation and human rights violations in IHK," said Zakaria.
He added that the premier has welcomed the UN Secretary General's call for making efforts to avoid further violence and thanked him for recognising Pakistan's commitment to the peaceful resolution of the Kashmir dispute.
The prime minister in his letter also termed Indian Prime Minister Modi's remarks on Balochistan as "unwarranted and in complete contravention of the UN charter".
"Pakistan will continue its efforts to raise the Kashmir dispute at the international level. It will figure prominently at the upcoming annual meeting of the United Nations General Assembly and the OIC meetings on the sidelines of the UN session," elaborated the FO spokesperson.
"Indian brutalities have not only been condemned by the international community but also members of different segments of the society within India and the Indian government should listen to those voices and end the bloodshed in the valley."
'Menace of terrorism not specific to one country'
The Foreign Office said Pakistan draws no distinction in terrorist groups and the menace of terrorism is not specific to one country.
The spokesperson's statement, in reply to US Secretary of State John Kerry's statement on Pakistan's anti-terror efforts, further said terrorism is an international issue which requires collective efforts to root it out.
"We are mindful of the elements working against the interests of Pakistan in the US and we engage with all the countries including the US in order to protect the country's national interests," said Zakaria.
The spokesperson added that with the US, Pakistan has a comprehensive mechanism and all matters of mutual concerns are discussed at bilateral meetings.
The US State Department earlier said the Haqqani network and other terrorist groups that operate inside Pakistan and along the Afghan border are a continued security threat to the entire South Asian region and beyond.
Secretary Kerry said in New Delhi earlier this week that in recent months Pakistan had taken strong action against the Haqqani network. But last month, Secretary Carter refused to certify that Pakistan had done enough to counter the terrorist network. The refusal led to the suspension of $300 million of US military aid to Pakistan.