Pakistan to invite India to discuss violence in Kashmir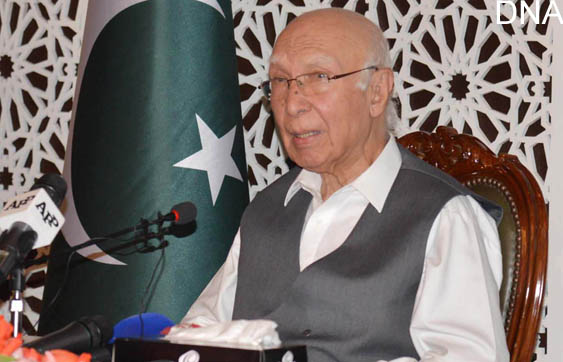 ISLAMABAD: Adviser to Prime Minister on Foreign Affairs Sartaj Aziz announced that Islamabad will invite New Delhi to discuss the ongoing violence in India-held Kashmir, and that Foreign Secretary Aizaz Chaudhry will write a letter to his Indian counterpart in this regard.
"The foreign secretary will give emphasis on talks with India on occupied Kashmir," Aziz said.
Regarding the issue of Indian atrocities in Kashmir, Aziz said the matter cannot be taken to the International Court of Justice without the consent of both sides.
The adviser said, Pakistan suspects that a faction of the Taliban, which claimed responsibility for the deadly attack in Quetta, was backed by Afghan intelligence agency — the National Directorate of Security (NDS)
Aziz further implied that India's intelligence agency RAW (Research and Analysis Wing) and the NDS are in collusion.
We will notify Afghanistan that NDS and Inter-Services Intelligence (ISI) should reestablish contact, Aziz said, adding that "incidents like the Quetta attack can be avoided when intelligence agencies of both countries are in contact".
The foreign affairs advisers said new guidelines have been set up regarding Pak-Afghan ties and recommendations in this regard will be presented to Prime Minister Nawaz Sharif. "Following the premier's approval, Pakistani and Afghan authorities will be in touch".
Pakistan requested membership of the Nuclear Suppliers Group (NSG) in May, Aziz said, and its efforts have been successful.
Member countries appreciated Pakistan's stance and believe that Pakistan and India should be granted NSG membership together, he maintained.
"Our nuclear programme is consistent with international standards and Pakistan is fully capable of becoming an NSG member," the foreign affairs adviser claimed, adding that "it adheres to the terms of the public statement for nuclear tests as well".
Aziz expressed hope that Pakistan's membership of the bloc would not be overlooked while India being given priority. "Instead of blocking India's membership, Pakistan has proved it is many steps ahead of India in fulfilling NSG requirements".
If India is ready for the Comprehensive Test Ban Treaty (CTBT) then Pakistan is ready to give it the shape of an agreement, Aziz said.
Pakistan has invited the former, current and future presidents of the NSG for a briefing, Aziz said, adding that Pakistan is ready to reach an agreement with India on not conducting nuclear tests.
Pakistan is preparing a dossier on the arrested Indian spy Kulbhushan Jadhav, who it suspects was operating with a network, the foreign affairs adviser said.
The evidence will be taken to the United Nations General Assembly, Aziz concluded.