Pakistan supports global efforts for safe water, says PM Nawaz Sharif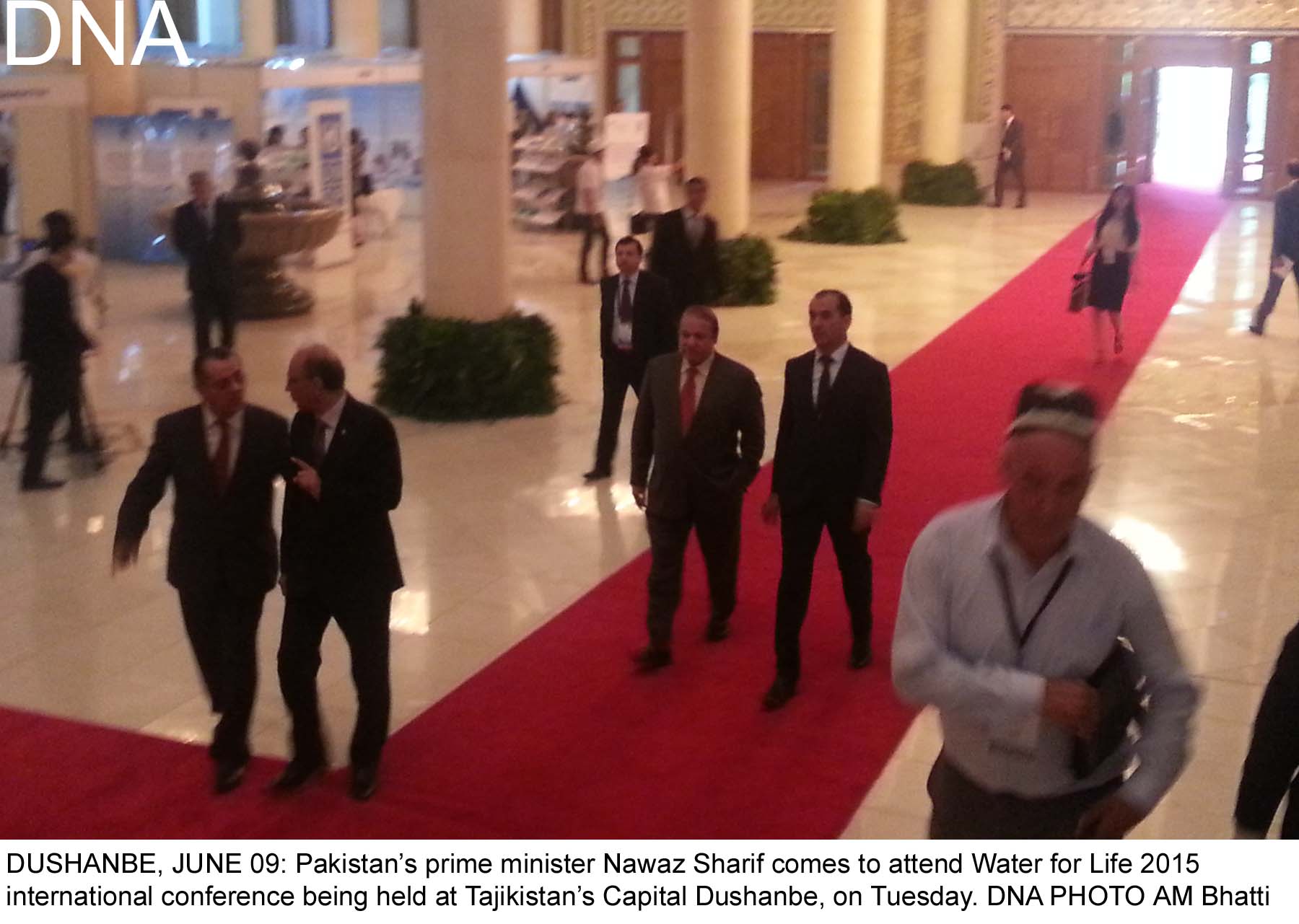 By Ansar Mahmood Bhatti in Dushanbe
Dushanbe, June 09 (DNA)- Prime Minister of Pakistan Nawaz Sharif has said Pakistan will support and back all efforts meant for ensuring clean drinking water adding cooperation in water resources can also help reduce poverty.The prime minister was speaking on he the occasion of Water for Life 2015 conference held in the Tajikistan capital Dushanbe on Tuesday. The prime minister was accompanied by Water and Power Minister Khawaja Muhammad Asif and Prime Minister Advisor on Foreign Affairs Sartaj Aziz.
The prime minister further said, millions remain without access to water, while for billions access to sanitation facilities continues to be an out of reach facility.
He said Pakistan is committed to achieving 100 per cent access to improved drinking water and sanitation and sufficient and unhindered supply of various purposes, domestic, agriculture and industrial, through implementation of sectorial development plans and strengthening institutional capacities with well-defined human resource development plans.
He added, in addition expanding existing infrastructure improved governance and efficient management of water resources and use including through use of modern technology, investing in improving water quality and most importantly, safeguarding our national water resources, constitute some of our fundamental priorities in the water sector.
The prime minister further said, our vision 2025 includes the objective of inclusive growth through water security, value addition, and research, modernization and best practices of water management.
He added, it is heartening that together we have secured a comprehensive goal on water in the proposed sustainable development goals, which will be the operational part of the new agenda for the next 15 years.
He added, the challenge once again will be to ensure its meaningful implementations. "We will need to draw upon multiple best examples for enhanced national, regional and global cooperation on water and sanitation related challenges.
Prime minister said we will need an integrated, coordinated and balanced approach with strengthened regional and global partnership at all levels to ensure effective implementation of the renewed water related goals, targets and commitments.
"Provision of enhanced means of implementation will be critical in this regard. Resource mobilization capacity building and technological assistance will require special attention.
He said, he was sure these and many other important aspects will be the subjects of our deliberations here. In conclusion, the prime minister said, water is one of the main pre requisites to succeed globally in our march towards a prosperous and sustainable future we want for our present and future generations.
He further said, Pakistan being home to some of the world's biggest glaciers and at the same time one of the most climate vulnerable and water stressed country and also because the agriculture sector is the backbone of our national economy, it is but natural that Pakistan should attach high importance to water related issues.
He said, we have made steady progress in improving access to safe drinking water, in pursuance of the MDGs. On sanitation the progress is relatively modest. We are very much conscious of the economic impact of inadequate sanitation.
He said last year we adopted in New York an ambitious and transformative universal post 2015 development agenda. Water constitutes the core of sustainable development as it has impact on all its three dimensions.
Prime Minister Nawaz Sharif said indeed water is an absolute requirement for our existence and the survival of the ecosystem. It is therefore appropriate that we focus our attention on sustainable use of this vital resource for life.
He said, provision of safe and affordable water to all, sanitation, sustainable management of water resources, investment in water infrastructure, and trans-boundary cooperation have been some of the issues on the global agenda for quite some time.
The Decade for Action has brought Water related issues further to the center stage. I am pleased to recall that Pakistan was one of the co-sponsors of the UN resolution that established the international decade. On the eve of completion of the international decade we can identify several milestones to take note of our collective efforts, he added.
Let me assure our full support for the success of the conference under the able stewardship of our hosts Tajikistan, the prime minister added.
Earlier the President of Tajikistan Emomali Rahmon also spoke on the occasion and thanked the delegated, especially the Prime Minister of Pakistan for gracing the occasion. He also announced to celebrate Water for Sustainable Development. The Tajik President said his country will continue hosting such important events even in the coming days.
UN Secretary Ban ki-moon also spoke on the occasion. The UN Secretary General highlighted the UN efforts to ensure clean drinking water to millions of people. He also gave some facts and figures throwing light on UN initiatives taken worldwide to ensure clean drinking water and better sanitation facilities.
Among others Chief Executive of Afghanistan Dr. Abdullah Abdullah also spoke on the occasion. = DNA