Pakistan pins no high hopes on Heart of Asia conference: Basit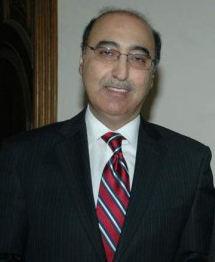 NEW DELHI, December 02 (DNA): Pakistan's High Commissioner in New Delhi Abdul Basit Friday said the ice between Pakistan and India may not be broken at the Heart of Asia conference when Foreign Adviser to PM Sartaj Aziz visits India this weekend.
Talking to an Indian daily newspaper, he remarked, "Pakistan is willing to wait for India to agree to dialogue, but said concrete progress may not be possible during the upcoming event."
Commenting on Pakistan's abiding desire for bilateral ties and regional peace, Abdul Basit observed, "The challenge is for the two sides on how to move forward. In Islamabad, we do have a strong desire to move forward. We have the patience to wait. If they don't break the ice in Amritsar perhaps we will find another opportunity somewhere later."
"The India-Pakistan relationship has seen many ups and downs. We have made many diplomatic initiatives but unfortunately things always come back to square one and we have to start afresh. What the two countries need is to make gains, and then consolidate, to build on them. But our trend is one step forward, two steps back and then discuss how to break the ice again," he said.
"Some thought the Heart of Asia conference may be the time when the two countries move towards a thaw. We have expressed our readiness to consider any proposal for talks from the Indian side, whether or not they would like to have a bilateral engagement on the margins of the conference," Basit said.
"We fully understand that the focus should stay on Afghanistan at the conference. And whether or not there are bilateral talks, our adviser is coming because Afghanistan is important for us, its stability and economy is important for us so we will participate constructively," he said.
"As happens at these multilateral forum meetings, we had conveyed that our adviser would attend and he made a statement that we are open to ideas (for talks). As hosts India will decide our programme," he said.
"We have expressed our desire, but we do not know if India is willing. We are kind of in a situation where we would like the ice to break but we would not like to take any step that will not be reciprocated," he added.
Responding to a question that if Pakistan was worried that it will be cornered at the conference with the declaration that is likely to contain tough words on terror, the High Commissioner said, "Why should we worry because terrorism is also an important issue for us and the final draft on terror is being negotiated, and many brackets will be removed from the declaration before it is cleared."
"We are not worried. We have our own positions on these issues. We are the outgoing co-chair., and we were able to have an Islamabad declaration which will be followed by the Amritsar declaration," he added.
Responding a query regarding 2003 ceasefire, Abdul Basit highlighted 2003 ceasefire as an important Confidence Building Measure (CBM) saying that, "The 2003 ceasefire was an important Confidence Building Measure (CBM). We would not like to see it destroyed."
"That's why, last week, our DGMO took the initiative to speak to his Indian counterpart. We would very much like peace and tranquility to be preserved," he said.
"I think this CBM should not be ended. We must preserve it and then consolidate," Basit said.
The High Commissioner was asked if the meeting of Army chiefs of the two countries was the right mechanism to preserve this CBM, he said that, "I think the first step is to give diplomacy a chance. Unless we do that I don't know how we can achieve these objectives, and create the space for it."
Replying to a query regarding renewed flare-up at Line of Control (LoC), Pakistan's high commissioner mentioned July 8th as the beginning point of 'what is happening in Jammu and Kashmir have made things difficult'.
"Whatever India and Pakistan agreed to in Islamabad last year (during Sushma Swaraj's visit) of a comprehensive dialogue process including Jammu and Kashmir, the feeling in Islamabad is that there is no desire for a comprehensive dialogue in Delhi. The problem with LoC firing is you blame us, and we blame you," he said.
Proposing the way forward concerning LoC situation, he spelled out, "The first thing is the firing must end immediately, and then the next step has to be bilateral engagement. That is unavoidable. You can't agree on anything unless you talk with each other. I can't say more, because I don't know what India wants to do."
"We did have engagement…PM Modi invited PM Sharif, then he visited Lahore…but we are still at the same place," he said.
"This is somehow the nature of our relationship. We all thought that our PM coming we were all looking to a good process. But you all know what followed with the Hurriyat. Then FS Jaishankar visited Pakistan," he said.
"The July 8th comes and we are back to square one. Hence it is in my view important not to brush aside issues that bedevil relations. Jammu and Kashmir becomes the issue between us. Its resolution is absolutely important for us. That is not happening. We have already agreed that on the comprehensive dialogue framework. If we are ensconsed in our respective positions then we won't move," Basit said.
Responding Indian objection to international campaign Pakistan launched to express support for Jammu and Kashmir, he said, "Pakistan will continue to extend moral and diplomatic support to the people of J&K. To expect Pakistan to look the other way would not be possible. And we are not alone. OIC has issued a statement on support of J&K. UN Human Rights Commissioner wants to send a fact finding mission there."
Responding to Indian demand for action against LeT and JeM, Abdul Basit said, "There is zero tolerance for terrorism in Pakistan. The organisations you mentioned are proscribed organisations. We have in the past taken actions against them. And if there is proof against them it should be shared with us not speculation and hearsay."
"But all terrorism is a big issue for us. We want to discuss what is happening in Balochistan, FATA, Karachi. We would like to move in a more reasonable manner," he added.
"This cannot be done just on the basis of speculation or unfounded stories. We are ready to play our role, so long as this is done on the basis of irrefutable evidence. Even after Pathankot, Pakistan moved quickly and filed an FIR. That should be testimony to the seriousness of purpose, but they need a cooperative approach," Basit said.
In response to a question regarding cancellation of the South Asian Association for Regional Cooperation (SAARC) Summit, Basit said, "That is a temporary thing. If SAARC couldn't be held that is our collective loss."
"We also have serious issues on terrorism. The entire leadership of the TTP, for example, is in Afghanistan. We still strongly feel that terrorism is a common challenge and it is only through a cooperative approach that we can make a difference, not targeting one country," he said.
Responding to talks between India and Pakistan, the High Commissioner said that, "I think we need to work on how to break the impasse between us. It is a slightly skewed approach to think India is doing a favour by having a dialogue process."
"Pakistan is not begging for dialogue," Basit said.
"If India is not ready, we can always wait. We will continue to work to break the impasse, but we are very clear that dialogue is the only way our countries can move forward and they cannot live in a state of perpetual hostility. Talking to each other is inevitable. Whether it happens 1 year down the road or 3 years down the road," he said.
Responding to the first military exercise and other exchanges between Pakistan and Russia, Basit stated that, "If Russia engages with Pakistan how it is a loss for India? We are living in a world that is transforming in many ways."
"Russia is a sovereign country, so is Pakistan. China and India have very good relations, China is one of India's biggest trading partners, but that doesn't have an impact on Pakistan and China's strategic partnership," he said.
"All good relations work to our collective advantage. I don't subscribe to this zero sum game. Also remember, Russia played an important part when the Tashkent agreement happened, so good relations always help," he said.
Regarding the conversation between President-elect Trump and PM Sharif where he offered to play a role to help sort out problems, Abdul Basit said, "We are looking forward to having a good relationship with the incoming administration in the US. The US is our largest trading partner, and has a big role in Afghanistan."
"What the US will do vise a versa India and Pakistan is not for me to say. At the end of the day any decision has to be taken by India and Pakistan rather than a third country. We have to take the difficult decisions. We can count on US and other countries to encourage us. But primary decisions lie between New Delhi and Islamabad," he said.
Speaking on the recent statements made by PM Narendra Modi on the Indus Water Treaty, Basit said that, "The Indus Water Treaty is a permanent treaty. It can neither be changed nor abandoned unilaterally,"
"We urge India to discuss their problems through dispute settlement mechanisms. And so far we have been able to resolve all our issues," he added.
Responding to the new restraint on cultural exchanges, on Pakistani film stars and performers as well as Pakistan's ban on Indian films, the High Commissioner said, "We saw what happened to Fawad Khan and we are concerned by that. It is difficult to build these ties, but easy to destroy them." DNA
============