Pakistan, Spain should increase cooperation: Ambassador Morales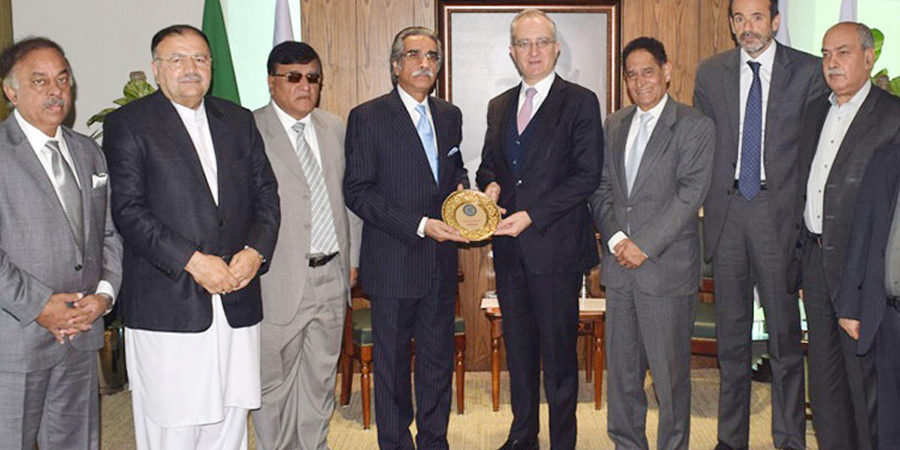 ISLAMABAD, DEC 02 (DNA) -Ambassador of Spain Carlos Morales has said that Pakistan is developing at a fast pace which is being welcomed around the world while law and order situation has improved which has helped economic stability.
He said that Pakistan is attracting huge investment and there are bright opportunities for both the countries to strengthen their mutual trade and economic relationship.
Spain is eager to expand trade volume with Pakistan and cooperate in transfer of technology, he said while speaking to the business community at FPCCI Capital House. President FPCCI Abdul Rauf Alam and other business leaders were also present on the occasion.
Carlos Morales said that his country was keen to develop strong trade ties with Pakistan and we are willing to make all out efforts to promote trade between the two countries which is the best way to bring people of two countries closer.
He praised the efforts of Pakistani businessmen for promotion of industrialisation and trade and welcomed the proposals forwarded by the business community to improve trade.
The Ambassador stressed the need for making joint efforts to boost trade between Pakistan and Spain. FPCCI is playing a very important role in the development of Pakistan and agreed to frequent exchange of business delegations which will help increase trade, he added.
At the occasion President of the FPCCI Abdul Rauf Alam said that Pakistan and Spain enjoy extremely cordial and friendly ties established in late 1950s. A large number of Pakistanis are living in Spain supporting their families and playing their part in development of Spain.
We can cooperate in different sectors like energy, textiles, banking, communication, transport, construction etc. he added.
Abdul Rauf Alam said that cooperation between the two countries should be increased and direct flights should be started. Pakistan offers great investment opportunities which should be exploited by Spanish investors, he said.=DNA
==============