Pakistan Joins 70 member Open Government Partnership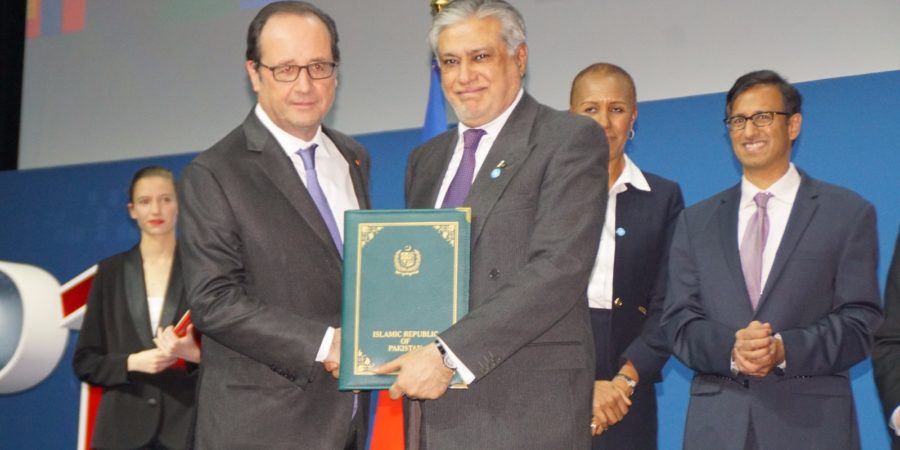 Paris 7th December, 2016. Pakistan has joined the rank of 70 member countries of Open Government Partnership (OGP).
This was announced by Senator Mohammad Ishaq Dar, Pakistan's Federal Minister for Finance and Economic Affairs at the opening ceremony of the 3-day 4th OGP Summit held in Paris, today.
He handed Pakistan's Letter of Intent to join OGP to the President of French Republic in the inaugural ceremony of the Summit which was chaired by the French President. Few other countries including Luxembourg, Morocco, Burkina Faso and Jamaica also announced their decision to join OGP.
During his announcement speech, Finance Minister reiterated Pakistan's commitment to the four key principles of OGP including fiscal transparency, access to information, asset disclosures and citizen engagement. He further added that Government of Pakistan has pledged to work against corruption and fiscal fraud and is prepared to make further high level commitments to fully achieving and sustaining the Principles of OGP.
The Summit aimed at promotion of transparency, accountability and citizen participation was attended by a large number of Heads of State and Governments, Ministers and civil society representatives to push forward the open government agenda in light of the global challenges.
Later Finance Federal Minister Dar attended a Reception hosted by French Foreign Minister Mr. Jean Marc Ayrault.
OGP was launched in 2011 to provide an international platform for domestic reformers committed to making their governments more open, accountable and responsive to citizens. Since then, OGP has grown from 8 countries to the 70 participating countries including USA, UK, France Canada, Indonesia, Turkey and Sri Lanka.