Pakistan, Egypt vow to synergize efforts to curb terrorism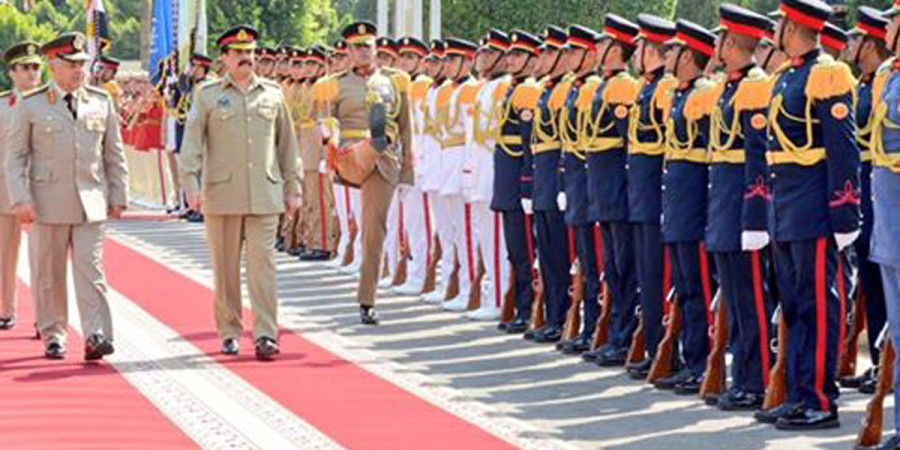 CAIRO, 25 JULY, (DNA) – Chief of the Army Staff (COAS) General Raheel Sharif arrived in Egyptian capital Cairo on a two- day official visit, according to a statement released by ISPR on Monday.
Upon his arrival at the Rgyptian Army Headquarter, the army chief General Raheel Sharif was presented Guard of honour.
General Raheel Sahrif met Defence Minister and Commander-in-Chief of Egypt's Armed Forces, General Sedki Sobhi Sayed and Egyptian Chief of Staff of The Armed Forces Mahmoud Hegazy separately and discussed Pak-Egypt military to military relations, enhanced defence and security cooperation and collaboration.
Both sides vowed to synergize all efforts and resources to fight and eliminate terrorism.
The Egyptian leaders expressed special interest in benefiting from Pakistan Army's experience in all facets of fighting terrorism including Counter IED.
Earlier in April 2015, Defence Minister and Commander-in-Chief of Egypt's Armed Forces, General Sedki Sobhi Sayed had held a meeting with Pakistan Army chief General Raheel Sharif at the General Headquarters (GHQ) to discuss the crisis in Yemen.
General Sobhi had also visited Joint Staff Headquarters at Chaklala to call on Chairman Joint Chiefs of Staff Committee General Rashad Mahmood.
The meetings were held to discuss areas of mutual cooperation between the armed forces of both countries.
During that General Sobhi's meeting with General Raheel Sharif, "matters of mutual interest, regional security and military-to-military bilateral relations were discussed."
General Sobhi had also met Pakistan's Defence Minister Khawaja Asif and apprised him about Egypt's stance on the Yemen conflict.
After Saudi Arabia's decision to launch air strikes against Houthi rebels in Yemen, Egypt had hosted an Arab summit on March 29 2015, where the formation of a unified military force to counter growing security threats from Yemen to Libya was announced— an idea floated by Egyptian President Abdel Fattah al-Sisi.
Egypt is an important Saudi ally, and was named as one of ten countries wanting to commit resources to the Saudi-led Yemen offensive, according to Saudi media.