Pakistan donates IT lab to FCCISL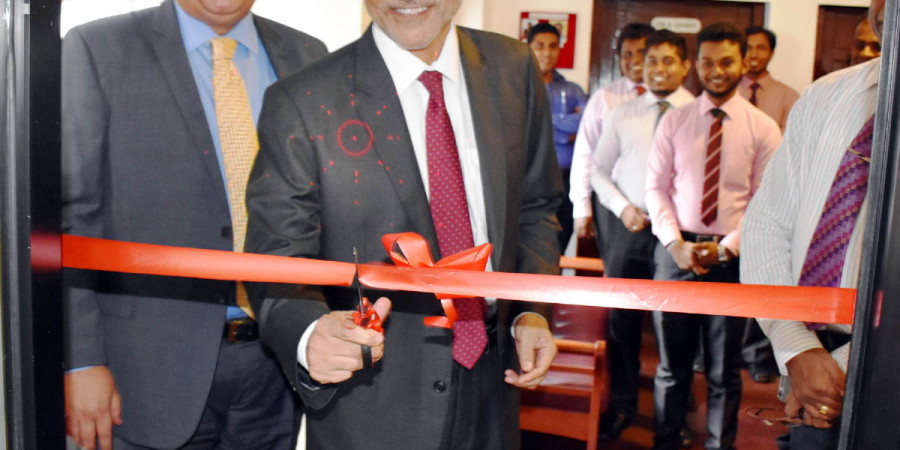 COLOMBO, 29 JULY (DNA) – The High Commissioner of Pakistan in Sri Lanka Shakeel Hussain on Friday said that the government of Pakistan is committed to promote human capital development and entrepreneurship in Sri Lanka and so donates IT lab to FCCISL.
The High Commissioner made these remarks while speaking on the inauguration ceremony of a fully equipped IT Lab at the Federation of Chamber of Commerce and Industry of Sri Lanka (FCCISL) last evening.
The government of Pakistan through its High Commission in Sri Lanka had donated a fully equipped IT lab comprising 15 desktops, 05 laptop computers, related equipment and furniture to the Federation of Chamber of Commerce and Industry of Sri Lanka (FCCISL).
Shakeel Hussain mentioned that leading international publication, fund managers and rating agencies had given positive assessments about Pakistan's economic health. "The inclusion of Pakistan in the category of ´Emerging Market´ by the US equity indices provider Morgan Stanley Capital International (MSCI) is an indication of the confidence of the international institutions in Pakistan´s economic performance," he added.
He said Pakistan would soon become a strategic hub of economic activity and invited the Sri Lankan businessmen to explore the possibilities of doing business. The High Commissioner further said that Pakistan's Associate Membership of European Organization for Nuclear Research (CERN) is recognition of Pakistani scientists working in various sectors related to civilian uses of nuclear technology.
It is an acknowledgment that Pakistan is a responsible nuclear State with strong credentials in using civil nuclear technology for peaceful purposes including in the areas of power generation, agriculture and medicine, he added.
Lauding the role of Federation of Chamber of Commerce and Industry of Sri Lanka, he said that FCCISL is playing a vital role in promoting bilateral trade and investment between Pakistan Sri Lanka. He appreciated the efforts of FCCISL for organizing "Workshop on Family Business and Entrepreneurship" in collaboration with AMAN Centre for Entrepreneurial Development, Pakistan which was attended by the participants from both countries.
FCCISL President, Mr. Sarath Kahapalaarachchi thanked the government of Pakistan and the High Commissioner for their support and provision of fully equipped IT lab which was a long felt need of the Federation House. He further said that FCCISL is now capable of providing ICT training to around 20 students at one time
Deputy High Commissioner of Pakistan Dr. Sarfraz Ahmed Khan Sipra, Secretary General, FCCISL, Ajith D. Perera and other board members of the FCCISL were also present on the occasion.
This project would add to the tally of various socioeconomic projects from the Government and people of Pakistan for their Sri Lankan brethren in health, education and livelihood sectors. These projects includes construction of the School in Salam Baikulam in Vavuniya Town of the Northern Province, District Hospital Akurana, construction of a 3 storied state of the art school in Gampaha, equipping science laboratories in schools, revival of handloom sector in Mirigama, Gampaha District to strengthening this cottage industry and providing self-employment, 30 computer centers and 6 stitching centers, provision of clean drinking water in North and East, construction of 230 houses for IDPs, providing ambulances to hospitals, annual awards of Jinnah Scholarships as well as Higher Education scholarships for study of medicine, engineering, dentistry and pharmacy in Pakistan. DNA