Pakistan desires good ties with neighbours, Nawaz tells Sushma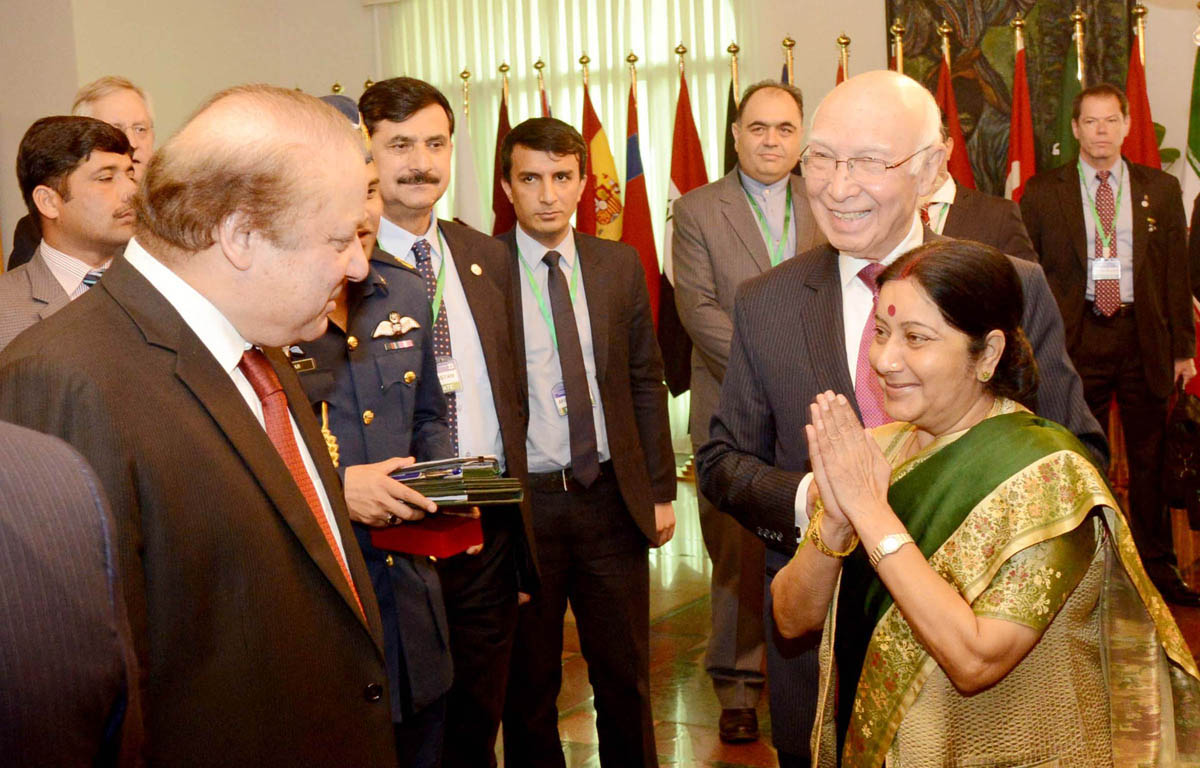 ISLAMABAD, 09 DEC (DNA) – Pakistan desires good relations with all neighbours including India, Prime Minister Nawaz Sharif on Wednesday told Indian Minister for External Affairs Sushma Swaraj and thanked her for attending the Heart of Asia conference on Afghanistan.
The interaction has been given as much importance if not more than the conference itself with likely resumption of cricketing ties between the two countries.
With the two leaders along with their entourage held discussions behind closed doors, speculations were rife if the outcome will be an announcement regarding the much-anticipated Pakistan-India cricket series.
Sources told Geo News that the Indian foreign minister congratulated Prime Minister sahrif for holding today's conference. In the meeting that continued for one hour, both sides reportedly agreed on the agenda decided during the recent NSAs meeting in Bangkok.
Sushma Swaraj is currently holding a meeting with Pakistan's National Security Advisor Sartaj Aziz. A joint press release is likely to be issued following the meeting. Also read: India 'extends hand' to Pakistan, calls for improvement of ties
The arrival of the Indian foreign minister in Pakistan marks the highest-level visit from New Delhi since 2012 and is seen by observers as a sign of improving ties between the two countries.
Addressing the Heart of Asia conference earlier in the day, Swaraj said she was extending India's hand to Pakistan and both countries should show the maturity and confidence to improve ties.
"Let me take this opportunity to extend our hand to Pakistan as well. It is time that we display the maturity and self-confidence to do business with each other and strengthen regional trade and cooperation," said Swaraj. "The entire world is waiting and rooting for a change. Let us not disappoint them," she said.
"For its part, India is prepared to move our cooperation at a pace which Pakistan is comfortable with. But today, let us at least resolve to help Afghanistan – in the best traditions of good neighbourliness – through more effective transit arrangements," she said.
Sushma Swaraj also told senior journalist Saleh Zafir that Indian Prime Minister Narendra Modi will visit Pakistan next year to participate in South Asian Association for Regional Cooperation (SAARC) summit. Swaraj said she would also accompany Narendra Modi during his visit to Pakistan next year.  DNA