NAB interrogates Zardari in Opal 225, suspicious transactions inquiries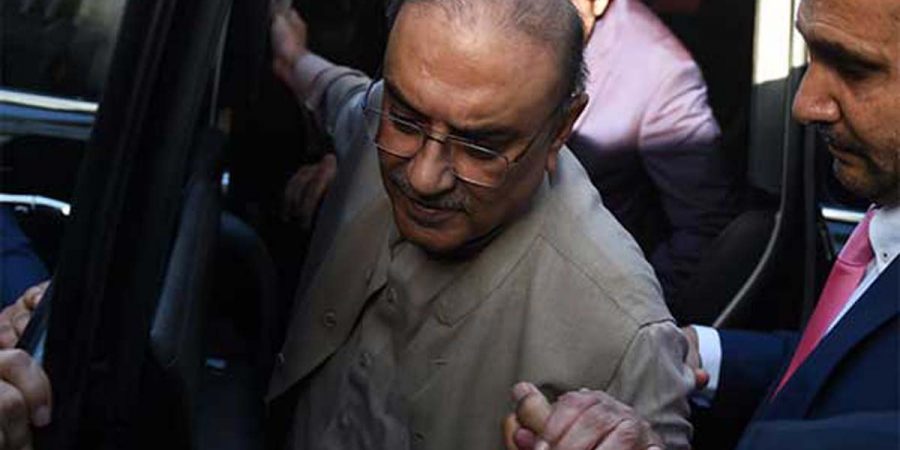 ISLAMABAD (DNA News) – The National Accountability Bureau (NAB) Rawalpindi on Thursday recorded the statement of former president and Pakistan Peoples Party co-chairman (PPP) Asif Ali Zardari in two of the ongoing inquiries against him, including alleged corruption of Rs1 billion in the Opal 225 project – that is owned by the Zardari Group – and suspicious transactions of Rs8 billion.
The Combined Investigation Team (CIT) of the accountability watchdog, headed by investigation officer Ahmad Saeed Wazir recorded his statement during an interrogation for an hour and a half.
The NAB has accused the Zardari Group of committing corruption in the JV (Joint Venture) of Opal 225 project.
After his appearance in the bureau, his defense counsel Farooq H Naek told the media that Zardari was not directly involved in the matter.
Yesterday, the former president obtained interim bails in six of the corruption cases against him from the Islamabad High Court (IHC).
In Opal 225 scam, Zardari and his sister Faryal Talpur's bail has been extended till June 11 against surety bonds of Rs500,000 each.
In the investigation into suspicious transactions, his pre-arrest bail was extended until June 18.
The high court granted him the interim bail in the money laundering case until May 29.