Muzammil, Ushna wins BB National Tennis C'ship crown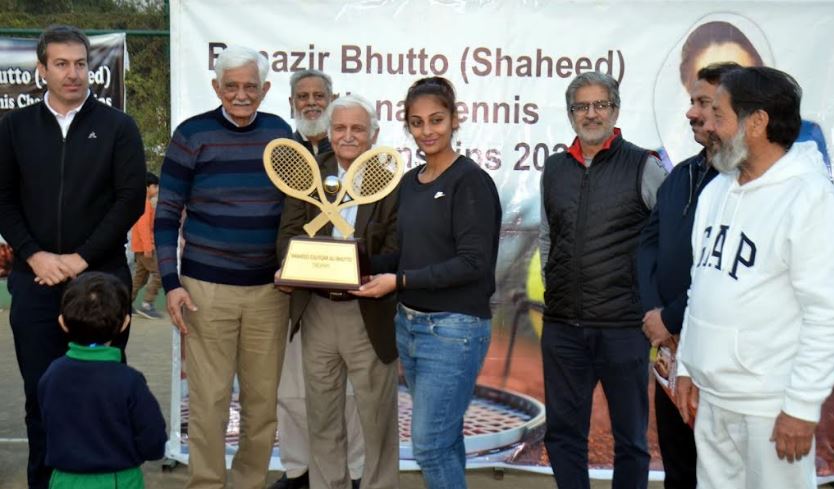 AFZAL JAVED
ISLAMABAD, Dec 20: Muzammil Murtza and Ushna Sohail wins the championship titles in Men's and Women's singles categories finals by defeating talented Mohammad Shoaib and Sarah Mahboob in the Benazir Bhutto Shaheed National Tennis Championship here at Islamabad Tennis Complex (ITC).

In the first Men's singles final, Muzammil Murtaza brought an end with talented Muhammad Shoaib's winning spree in an exciting and closely fought match, 6-4, 4-6, 6-3.
Mohammad Shoaib who overcame Pakistani number one tennis player Aqeel Khan in the semifinal of the championship lost the first game in the final by 4-6 but fought back in the second game by 6-4.
In the third and decisive game Muzammil controlled his nerves in the match and not allowing Shoaib to make pressure on him as Muzammil won the last game by 6-3 to clinch the championship title.

In the women's singles final Ushna Sohail triumphed over Sarah Mahboob by easy victory as Sarah failed to show her best in the final match. Ushna used her experience to down the opponent as she took the lead in the first game by 6-3 and won the second game by 6-1.

Senator Taj Haider and Senator Farhatullah Babar were the chief guest in the concluding ceremony of the championship and distributed trophies and cash prizes to the players.
In the men's doubles final, Aqeel Khan, with his partner Muhammad Abid beat Mohammad Heera Ashiq and Yousaf Ali 6-3, 6-0. The Under-18 girl's title was won by Amna Ali, who beat Sheeza Sajid 6-1, 6-2 in the final.
Boy's under 18 fianl was won by Abdullah Adnan as he beat Hamid Israr 6-3, 6-4. Boy's under 14 final was won by Mohammad Salar, who beat Ibriham Ashraf 4-5(6) 4-2, 4-1.
Boy's under 12 category was won by Hamza Roman, who beat Abdul Basit 4-1, 4-0.