Mushahid elected unopposed as CPEC committee chairman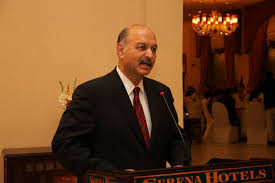 ISLAMABAD, SEPT 15 (DNA) / The newly-formed Parliamentary Committee on China-Pakistan Economic Corridor (CPEC), which met here on Tuesday in the Parliament House, elected Senator Mushahid Hussain Sayed as its Chairman.His name was proposed by Balochistan's Senator Mir Hasil Khan Bizenjo and seconded by Mr. Ijaz Jakhrani of the PPP and Mr. Ghous Bux Meher of the PML-F, both from Sindh province.Since, there was no other candidate, he was elected unopposed. After being elected as Chairman of the Parliamentary Committee on CPEC, Senator Mushahid Hussain thanked both the government and the opposition for supporting his election and said this consensus was a positive sign as the CPEC is also above party and provincial lines.
He said that the CPEC was the biggest national project since the nuclear programme as this was a programme which protects and promotes Pakistan's economic security, unites the federation through progress and prosperity of all the provinces of Pakistan, particularly the under developed regions.
He said that this was a long-term national project beyond any political party or government and this Parliamentary Committee would be a committee of national unity and would be a voice of the smaller provinces in promoting the CPEC, whose benefits will reach every nook and corner of Pakistan.
Senator Mushahid Hussain said that he would call the next meeting of the Parliamentary Committee to decide the Terms of Reference as well as the Work Plan of the Committee so that it would provide oversight, guidance and serve as a force-multiplier for the building of the China-Pakistan Economic Corridor.
Fifteen members of the Parliamentary Committee on CPEC, representing both the National Assembly and the Senate, attended the meeting.=DNA