Minister terms CPEC a model of economic cooperation for world to follow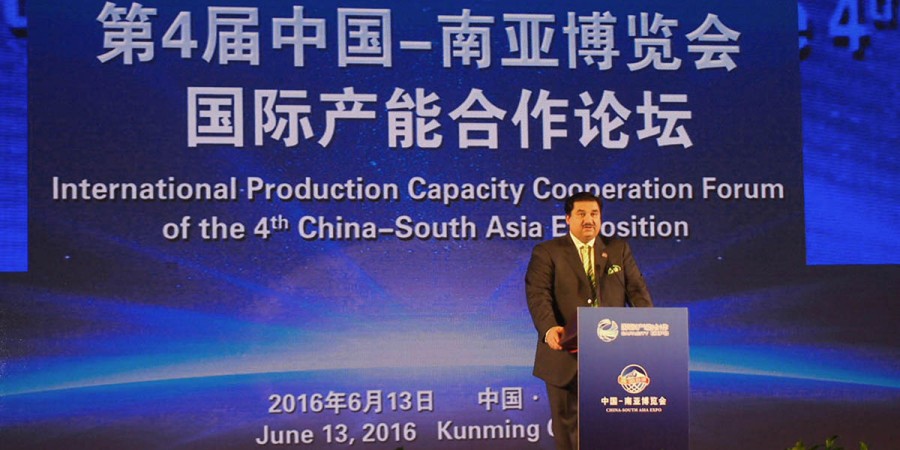 KUNMING, 13 JUNE, (DNA) – Pakistan's Minister of Commerce Engr. Khurram Dastgir Khan has expressed confidence that CPEC will establish a new model, set new parameters, standards and criterion for the rest of the world to follow in terms of bilateral, regional and international economic cooperation.
He made these remarks during the International Production Capacity Cooperation Forum, organized on the sidelines of the 4th China-South Asia Expo in Kunming, China, on the theme "Deepen the cooperation and Share the joint development ."
?In his speech, the Minister of Commerce said that the government of Prime Minister Nawaz Sharif attached highest priority to reviving Pakistan's economy and achieving high growth rates commensurate with our potential.
He said that the government's comprehensive policy measures had started yielding results and Pakistan's economy was showing definite signs of a turnaround with GDP growth rates steadily increasing over the last three years.
The Minister specifically highlighted the remarkable growth rate of 6.80 percent in the industrial sector during the fiscal year 2015-16 and said that this pointed towards strong fundamentals for future growth in industrial sector in Pakistan and must be given due attention by the investors.
?The Minister of Commerce spoke in detail on the significance of China-Pakistan Economic Corridor as a flagship project of the "One Belt One Road" initiative. He said that the special nature of Pakistan-China ties and the fact that both sides were acutely aware of the significance of this landmark initiative made CPEC a reality and it will be implemented with success.
Mentioning the establishment of industrial parks under CPEC, the Minister urged Chinese investors to join joint ventures in Pakistan to make win-win platforms for both Pakistani and Chinese businessmen. =DNA
===========