Dar lauds continued support of ADB for socio-economic development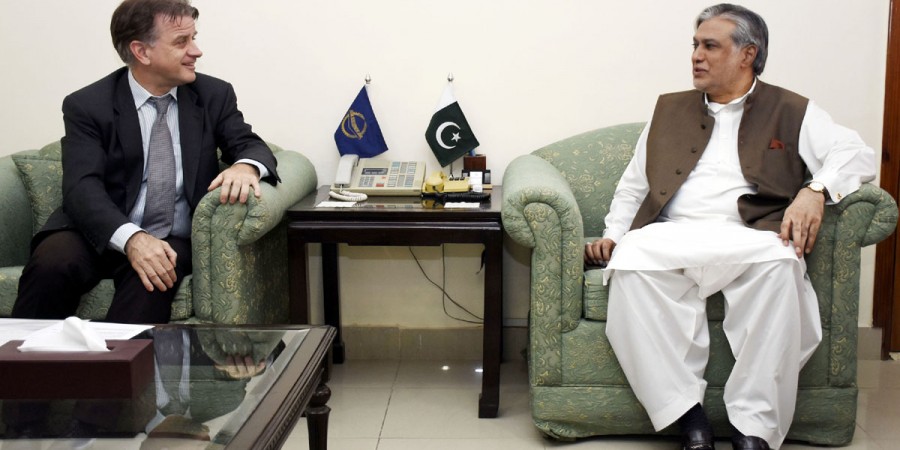 ISLAMABAD, 13 JUNE, (DNA) – The Country Director Asian Development Bank (ADB) Werner Liepach called on Finance Minister Ishaq Dar in Islamabad on Monday.
Liepach briefed the Minister regarding the visit of ADB Vice President to Pakistan from 15th to 20th June 2016. He informed that the Vice President among other official engagements would also participate in the signing ceremony for additional financing for M-4, Shorkot-Khanewal highway Project.
Minister Dar said that he looked forward to receiving the ADB Vice President.
Liepach also discussed matters relating to the upcoming Ministerial meeting of the Central Asian Regional Economic Cooperation (CAREC), to be held in Islamabad later this year. It was noted that the arrangements for the meetings were progressing smoothly. Pakistan has been actively participating in the CAREC activities, since joining the group in 2010. ADB is supporting development of trade and transportation corridors in Central & South Asian region, promoting regional connectivity.
The ADB's current portfolio for Pakistan also came under discussion. Mr. Liepach informed the Minister that most of the projects were progressing as per the timelines. He also stated that ADB's financing programme in Pakistan for the next three years was presently being discussed with the Economic Affairs Division.
Finance Minister Ishaq Dar appreciated the continued support of Asian Development Bank for the socio-economic development of Pakistan.
Senior officials of Ministry of Finance attended the meeting. =DNA