Mian Anjum Nisar says Federal Budget 2023-24 lacks long-term direction to economy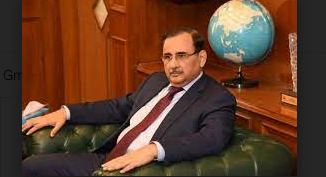 ISLAMABAD, JUN 10 /DNA/ – The Federal Budget 2023-24 can be termed as a short-term, ad-hoc and an expansionary budget in an unusual time of economic emergency, looking like an interim budget, with short-term policies, lacking solid measures to stabilize the economy, having no focus on changing economic priorities.
These views were expressed by the SAARC Chambers of Commerce and Industries' (SCCI) newly-elected Vice President and FPCCI's Businessmen Panel (BMP) Chairman Mian Anjum Nisar while giving his reaction over the new budget.
The FPCCI former president and BMP Chairman said that the present budget lacks major objective of giving a long-term direction to economy, as no visible reduction in cost of doing business or cut in taxes in budget has been announced to speed up the growth or create new jobs in the country. He said that Pakistan needed millions of jobs annually but the government had not taken any concrete step in federal budget for job creations for the unemployed youth. Although details are still to come out, the budget vibes seem positive, he said.
Mian Anjum Nisar stated that the businessmen had demanded of the government to take concrete steps in the upcoming Federal Budget 2023-24 to keep industrial wheel running especially of SMEs, saving the livelihood of millions of workers associated with the small industries. The major focus should have been on greater relief to the documented and registered SMEs. In this budget too, the government attempted to squeeze the neck of old taxpayers instead of taking efforts to bring new taxpayers into tax net. Budget FY24 is an attempt to satisfy IMF on key matters relating to revenue collection, subsidy reductions, and attainment of fiscal discipline, he stated. He said Rs. 1,150 total outlay of public sector development program (PSDP) is appreciable. He said government has announced some good steps towards agriculture sector. Agriculture is the backbone of the country for food security. The announcement of conversion of 50,000 tube-wells into solar, duty reduction on the import of raw material of solar panels, batteries, and inverters are right steps towards energy mix in the country. Announcements related to education and youth skill development program, etc., are the goods steps the government is taking.
However, he said that it was not an export-oriented budget. The finance minister did not announce any concrete steps towards exports enhancement. Our cost of doing business is going up due to high electricity rates and unfriendly business environment in the country. He said that except agriculture, nothing was there in the budget speech for the rest of sectors. He proposed that agriculture sector should also come under the tax net. He termed the budget as election budget, and it is not going to be the final budget.
The BMP Chairman commended the government for removing duty from solar panels import by agreeing to the demand of industry. The FPCCI former president said that the government has announced some measures for the agriculture sector but it has failed to introduce a well-thought out strategy for enhancing production of key crops including cotton, wheat and oilseeds in addition to reducing cost of production of farmers in federal budget 2023-24.
He expressed dismay that on one hand the government was rightly distressed over rising inflation, but on the other hand it fell short of addressing the root cause of this alarming trend, which was continuous downward trend in farm productivity. He also called for reducing the input cost of farmers that was increasing particularly due to upsurge in power tariff and increase in rates of fuel.
Mian Anjum said that the government gave a big miss to the local as well as the export industry, the backbone of the national economy while announcing budget 2023-24. He said that input cost of farmers increased many times, but the government did not announce any tangible step for reducing it.
Amid unprecedented water shortage, the electricity tariff multiplied along with spiraling petrol and diesel prices, making industry as well as agriculture one of the costliest affairs.
He said that amid reports of pressure' from the International Monetary Fund (IMF), the government has earmarked Rs1.074 trillion in subsidies in its budget for fiscal 2023-24, about 2.6 per cent lower compared to last year's allocation. According to the budget document, significant cuts have been made to subsidies for three different sectors, including power, petroleum, and additional flood relief arrangements. He said that subsidies for the petroleum sector have been slashed by 47.4pc to Rs53.6bn for fiscal 2023-24.
He said that the subsidies for the power sector have been slashed 14.5pc, with Rs579 billion earmarked for fiscal 2023-24. Under this head, Rs150bn have been proposed for inter-Disco tariff differentials. The government has earmarked Rs310bn in the budget for IPPs against Rs180bn in FY23. Significantly, no specific amount has been set aside for FCA spillovers, the Kissan package, flood water management, industrial support package, and zero-rated industrial subsidy.