'Khilafat is coming': Islamic State flag put up on Islamabad's main thoroughfare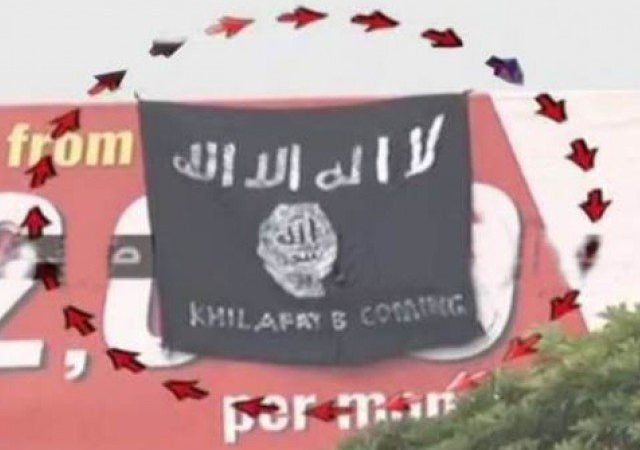 ISLAMABAD, SEPT 24 (DNA) – Despite an extensive CCTV camera network in place in Islamabad, unidentified men were able to put up an Islamic State (Daesh) flag on a major thoroughfare of the city on Sunday.
The flag, put up on a billboard at a pedestrian bridge on Islamabad Expressway near Iqbal Town, was taken down by police at around 12pm.
It was a standard flag of the terrorist organization, the only addition being that the slogan "Khilafat is coming" was inscribed on it.
Interior Minister Ahsan has taken notice of the incident and sought a report from the capital's police chief.
No regret over supporting IS, says Lal Masjid cleric
The police are trying to nab the people who put up the flag with the help of CCTV footage.
Islamabad has a "Safe City Project" in place that cost the national exchequer $125 million or over Rs13 billion.
Under the project, over 1,900 surveillance cameras have been installed across the city with a command and control centre set up in Sector H-11 to monitor important buildings, entry and exit points, roads, commercial centres and a sizable portion of residential areas.
However, a Safe City Project official told that it was unlikely that their cameras would have caught the culprits in the act.
"That area [where the flag was found] doesn't fall within our domain, but we do have cameras installed there," he added.
"But our cameras are installed at such an angle that they only focus on the traffic. It's unlikely that the people who put up the flag would be visible in the footage."
Maulana Abdul Aziz, a cleric of Lal Masjid, a mosque located in the heart of Islamabad, has repeatedly stated that he "respected" IS because of the similarity in their missions and had no repentance over supporting it.