India sponsoring state terrorism in Pakistan BY Waheed Hussain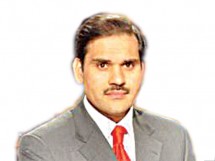 Kulbhushan Yadav's confessional video has confirmed the Indian state institutions' involvement in heinous terrorist acts in Baluchistan, Fata, Karachi, KPK and other parts of the country. The objective of the madness like always is to destabilize and disintegrate Pakistan since Indian hatred and venom against Pakistan is not new. The seeds of acrimony were sown even before the creation of Pakistan when the Congress and its naïve leaders conspired to prevent establishment of new Muslim state in the sub-continent. Illegal occupation of Kashmir in 1947, creation of Bangladesh through Mukti Bahini, Siachen occupation in 1984, and sponsoring hundreds of terrorism acts in Pakistan since 9/11 attacks speak volumes of the Indian antagonism. Indian Naval Commander's activities in Pakistan are in fact a continuation of the process initiated decades ago.
The initial reports suggest, the Indian Research and Analysis Wing (RAW's) senior officer Kulbhushan Yadav was in direct contact with the Indian National Security Advisor Ajit Kumar Doval in New Delhi, the man who perhaps has a strong desire to destabilize Pakistan irrespective of the methodology. Being a police officer he has served in the Indian Intelligence Bureau for many years and is a very seasoned intelligence operator who has served undercover in Pakistan. He is known for crushing civilians during an operation against Mizo National Front in Assam. He was the central figure who launched Operation Black Thunder against the minority Sikh community and killed thousands of innocent civilians including women and children in the Golden Temple at Amritsar.
The real life story of innocent civilians massacre continues as Ajit Kumar Doval (AKD) was posted to Indian Occupied Kashmir in early 1990s. He blackmailed and bribed many Indian Army personnel to murder Kashmiri youth in fake encounters. He also committed gross human rights violations in Kashmir and as a result was promoted as head of the Intelligence Bureau. After his retirement in 2005 he established a research institute "Vivikananda International Foundation," a public policy think tank affiliated to Rashtriya Swayamsevak Sangh (RSS), a violent organization to which the Indian Prime Minister Narendra Modi also belongs. It is well known that it is the same brutal group which threatened the Pakistani Cricket team during the recent T20 World Cup held in India.
The Indian Prime Minister's selection of the violent man to the position of National Security Advisor was a clear indication to Pakistan that Modi's government will continue to destabilize Pakistan by sending agents and spend billions of dollars in supporting terrorists. During a speech in December 2015, Ajit Doval spoke about the policy of "defensive-offensive" strategy and threatened to destabilize Baluchistan. He referred to using a 'terrorism strategy' against Pakistan, whereby India will aid the terrorist elements in every manner in Pakistan as a part of its professed strategy.
Getting a sense from the Yadav statement it is easy to conclude that India was behind Safoora Goth, Karachi attack in May 2015, where 46 innocent citizens were killed. Similarly, number of attacks in Quetta against a particular sect was also planned in New Delhi with the purpose to create sectarian disharmony in the Pakistan.
Yadav's present assignment in Baluchistan was to disrupt and prevent progress on the China Pakistan Economic Corridor (CPEC). Terrorism activities were planned in various areas of Baluchistan including Gawadar. There should not be an iota of doubt in our minds that India was opposed to the CPEC project from the outset.
In May last year the Indian External Affairs Minister Sushma Swaraj told the media that Indian Prime Minister Narendra Modi conveyed to the Chinese leadership that CPEC was not acceptable to India. Although the project is not defense related and in fact is an economic project that is aimed to bring peace and prosperity not only to Pakistan but the entire region. However, the Indians as a policy are unable to digest $46 billion investment in Pakistan as a catalyst to our development.
The use of third country soil for violent terrorist activities has been a common tool in the recent history which India pursues actively. The Indians have over a dozen consulates in the bordering provinces of Afghanistan. They have been providing money, training and weapons to the anti-Pakistan elements including TTP. Army Public School, Peshawar and Bacha Khan University, Charsadda massacre were planned in Afghanistan with RAW's support. Indians have spent billions of dollars in Afghanistan both on state and non-state actors. The primary objective is to defame and destabilize Pakistan.
Yadav has admitted that he has used Iran's soil for aiding terrorist activities an issue that was unequivocally raised by the Chief of the Army Staff General Raheel Sharif during a meeting with the visiting Iranian President Dr Hassan Rauhani last month in Islamabad. The Interior Secretary had also sent a letter to the Iran's ambassador in Islamabad on the issue, which as of now has not received a meaningful response. While the people hope that Pakistan's neighbors will not allow their land to be used against them in the future, the situation is unlikely to be reversed in the near future.
Pakistan has taken a positive step to share information of Yadav's activities with the five permanent members of the United Nations and European Union. Meanwhile, the government needs to adopt a more aggressive posture towards India. If they (Indians) can kill innocent citizens and security forces brutally, why do we appear so apologetic in our contact at all levels?
From the looks of it, it appears the Indian national security advisor has a direct hand in terroristic acts in Pakistan and he ostensibly is doing it at the behest of the Indian prime minister since both belong to the same terrorist organization that is recognized worldwide for killing people not only at home but also abroad.
Writer is Deputy Editor of Centreline.