Imran reiterates demand of PM Nawaz resignation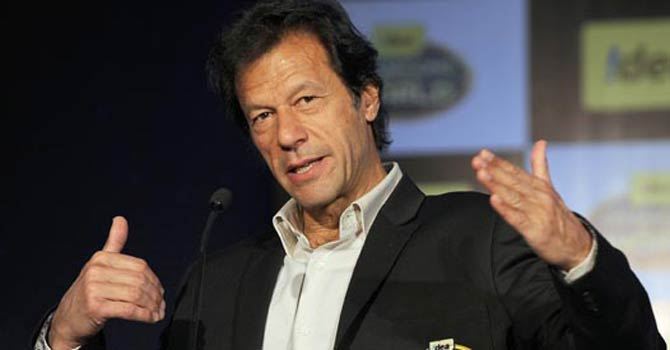 SIALKOT, 17 JUNE (DNA) – Pakistan Tehreek-e-Insaf (PTI) Chairman Imran Khan on Friday stated that he backed the sit-in organised by Pakistan Awaami Tehreek (PAT), adding that 14 members of PAT were martyred two years ago but justice has yet not been served.
Addressing the media persons, Imran Khan said that the people are angry over Pakistan Muslim League-Nawaz (PML-N). He further stated that Prime Minister Nawaz Sharif should relinquish his post until the investigation of the Panama Leaks is not completed. He said that another member of PML-N can serve as PM until the investigation is being carried out.
Khan accused PM Nawaz Sharif and the Sharif family of being involved in money laundering. PTI Chairman said that if the government suffers then PM Nawaz and PML-N will be responsible. Imran said that rigging was proved in the constituency of Defence Minister Khawaja Asif whereas 54,000 bogus votes were cast in his own constituency which have yet not been investigated.
Khan said that the government is giving rise to doubts by prolonging the investigation of the Panama Leaks issue. He stated that an independent National Accountability Bureau (NAB) shall be introduced in Azad Kashmir.
PTI Chairman said that the amount of funds raised during an Iftari held at Shaukat Khanum Memorial Cancer Hospital (SKMCH) were the highest during the 21-year history of the hospital. He said that the current government s behaviour is even worse than animals as hospitals are not even attacked during the time of war.
He criticised the Prime Minister by stating that there is not even a single hospital in the country where the PM could have been treated. "These are a mafia who need to be defeated", Khan said. DNA