Envoy passes on British PM's message to Pak Cricket Teams at Iftar dinner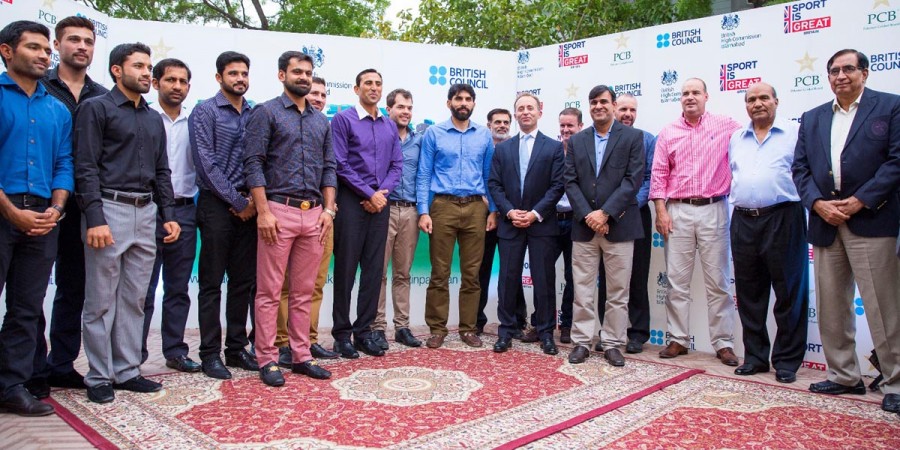 ISLAMABAD, 17 June, (DNA) – The British High Commissioner to Pakistan, Thomas Drew CMG, hosted an Iftar dinner for the Pakistan Men's Cricket Team and the Pakistan Cricket Board on the eve of ahead of the team's departure for the United Kingdom.
The Pakistan Men's Cricket team is set to challenge England in a packed tour of four Tests, five One Day Internationals and one T20 International match in July and August. The Women's team, who have already arrived in England, will play three One Day Internationals and three T20 International matches.
The High Commissioner passed on a message from the British Prime Minister David Cameron written especially for the dinner. The Prime Minister's message said:
"A UK tour by Pakistan's cricket teams is always an exciting prospect and I am sure we can expect some exceptional cricket this summer. But this trip also provides an opportunity to pause to reflect on, and celebrate, the wider historical, cultural and community links that exist between our two great cricketing nations.
"As you break your fast together on the eve of your departure to the UK, please accept my very best wishes for the Holy month of Ramadan. I hope that both the men and women's teams have a fantastic stay in Britain. And I hope that one day in the not too distant future I will be able to wish the England cricket team a successful tour of Pakistan."
During the event, the British High Commissioner faced a delivery from Pakistan's lead cricketer Azhar Ali, with Pakistan Test squad skipper Misbah-ul-Haq in the slips.
The British High Commissioner was joined by prominent figures from the worlds of sport, culture, media, business, government and civil society to wish the 'Boys and Girls in Green' well.
Joined by the PCB's Chairman, Mr Shaharyar Khan, and Chairman Executive Committee, Mr Najam Sethi,Thomas Drew extended his best wishes to both England and Pakistan and said:
"I am delighted to be hosting this Iftar dinner for the Pakistan Cricket Team on the eve of your departure for the United Kingdom to play England."
"This is a significant event for me – not just because I like a good game of cricket. It is also because of the power of sport to achieve all the things that I, as a diplomat, try to do to bring our two countries together. Our respective cricket teams – Men and Women's – have ambassadorial powers that I can only dream of. "
"Sport is particularly powerful in reaching out to the young, who represent the future of our two countries – and are the focus of so much of the UK's work here. Indeed, alongside our education work, this magnificent British Council library, which I opened only two weeks ago is another important example of that."
"I haven't forgotten who pays my salary, fond though I am of Pakistan, so I won't pretend that I will be supporting anyone other than the home team. But my biggest hope is for a great summer of sport, where the cricket does the talking. And I wish Pakistan's teams a fabulous stay in Britain."
Speaking on the occasion, Chairman PCB, Mr Shaharyar Khan, said: "It is indeed most thoughtful of the British High Commissioner HE Thomas Drew to have hosted the Pakistan team immediately prior to its departure for England.
"Cricketing relations between England and Pakistan have always been characterized by great and highly entertaining rivalry. From its first tour after its recognition, Pakistan's most memorable Test victory at the Oval gave the then nascent nation its first cricketing super star in Fazal Mahmood.
"The upstart babe of cricket then not only held its own by drawing the maiden Test rubber but also became the only nation until now to have bested England in the mother country on its first tour!
"Manager IntikhabAlam, who having skippered Pakistan on 1971 and 1974 tours and having represented Surrey for decades on end, is no stranger to England. The team is indeed backed by a support staff second to none.
"I am positive that the squad assembled here tonight under Misbah-ul-Haq shall give a good account of itself on the forthcoming tour, not only on the field of play but also in terms of winning friends through impeccable display of grace and sportsmanship
"To Misbah and his charges, I would say, play hard, giving no quarter to England for under Alastair Cook they are too good an outfit to not make you regret it. That said, I would also exhort to you all to follow the best traditions of the game.
"At the conclusion, I again thank HE Thomas Drew and the staff of the British High Commission for their hospitality and thoughtfulness." =DNA
===============