Imran Khan gives call to shut down Islamabad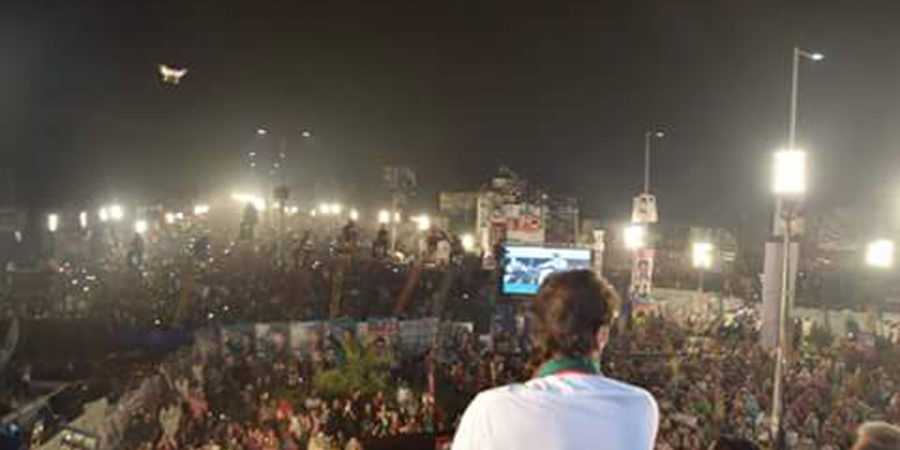 RAIWIND: Pakistan Tehreek-e-Insaf (PTI) chairman Imran Khan addressing a huge protest rally in Raiwind, some five kilometers away from the residence of Prime Minister Nawaz Sharif criticized rulers for corruption. 
In his address, the PTI chairman said that he would announce an important decision today.
Iman Khan said there will not be any more rallies against government. Now it is time to take a final decision and after Ashura they will not allow Nawaz Sharif to govern the country.
Imran Khan said all institutions and the prime minister have two weeks time and if during this time prime will not step down the final phase of the movement will start.
He announced to shut down Islamabad. He said will lead the rally to Islamabad.
He said that he is thankful to the women present in the gathering because they came for the sake of their country.
The PTI chief made a jibe at the PM's open heart surgery saying, "Nawaz Sharif you don't have a heart problem, you have a stomach problem."
Imran Khan mentioned Panama Leaks saying that they are not allegations but evidence in itself.
He said hinting at the PM's residence that 600 million rupees of public's money is invested on the walls of it.
He said that 850 billion rupees are spent on the security of Jati Umrah.
"White House has half the staff that serves at Jati Umrah," said Imran
Imran Khan further lambasted at Indian prime minister also and made it clear all Pakistanis are united and will be united when time comes. He further said the Indian prime minister had become mad and was pushing his own country to precipice.
Imran Khan reached the venue of protest earlier, accompanied by Shah Mehmood Qureshi and others.