IB inspector gunned down in Peshawar 'target killing'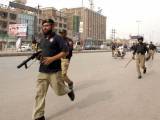 PESHAWAR: An Intelligence Bureau (IB) inspector was shot dead by unknown assailants in what police called a targeted killing in the Wazir Bagh area on Monday.
Unidentified gunmen opened fire on IB Inspector Usman Gul near a Christian graveyard in Wazir Bagh at around 9:15am while he was walking to work, killing him on the spot, Senior Sub-Inspector Police (SSP) Operations Abbas Najeeb Marwat said.
A boy passing by was also seriously injured by firing. He was rushed to Lady Reading Hospital, where he succumbed to his injuries.
Although the area was cordoned off soon after the attack, the assailants succeeded in fleeing, police said.
"We are investigating the incident," SSP Marwat said.