Bilawal says he never called Altaf Hussain traitor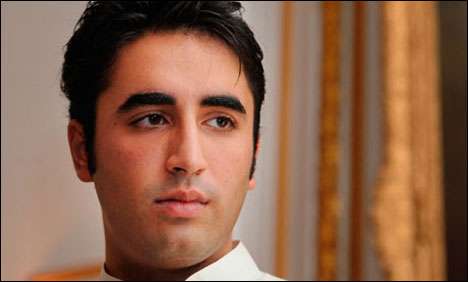 ISLAMABAD: Pakistan People's Party (PPP) Chairman Bilawal Bhutto Zardari said Friday that he never labeled the chief of Muttahida Qaumi Movement (MQM) Altaf Hussain a traitor.
"In my whole life, I have never called Uncle Altaf a traitor," the PPP chief said, adding, "Uncle Altaf was Karachi's political reality and still is."
Calls for MQM chief Altaf Hussain to be designated as a "traitor" flourished after Hussain chanted anti-Pakistan slogans and called the country "a cancer for entire world" speech on Aug 22.
The chief of the PPP was speaking to media persons in company of JUI-F chief Maulana Fazlur Rehman.
Replying to a question, Bilawal said the MQM chief remained 'Karachi's political reality' despite being 'minus one from MQM'.
"The minus one formula has been a part of our political sphere. I heard someone say yesterday that there should be another minus one in my family."
The PPP scion also said someone alleged that he had chanted 'Modi's friend is a traitor', he clarified and said that was not the case.
"I can never term Pakistan's elected prime minister to be a traitor. I disagree with him on many issues, including foreign policy and counter-terrorism, but Nawaz Sharif is a patriotic Pakistani," said Bilawal.
When asked whether PPP will continue to work with Pakistan Tehreek-i-Insaf on the Panama Papers scandal, Bilawal stated that his party will continue to work alongside every political party despite their political differences.
PPP and MQM have enjoyed a love-hate relationship in the last decade. On numerous occasions, the MQM decided to part ways with Qaim Ali Shah-led PPP Sindh government, however, at every instance, they were compelled to join the government benches in the house.
However, MQM left the government in 2014 after it alleged PPP of making "statements against their leader Altaf Hussain and against Mohajir people".