HEC, NACTA Partner to Follow Cause of Peace and Inclusivity on Campuses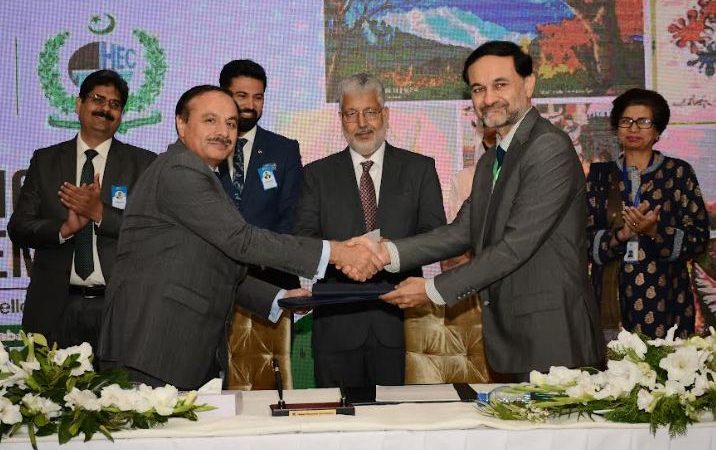 Islamabad, JUN 7 /DNA/ – A two-day National Vice Chancellors Peace Conference began on Wednesday for a comprehensive policy-oriented discussion aimed at strengthening peace, tolerance, and inclusivity in the academic institutions. The conference is being jointly organised by Higher Education Commission (HEC), Pakistan, National Counter Terrorism Authority (NACTA) and Shaoor Foundation for Education and Awareness (SFEA).
The conference themed "Academic Discourse on Countering Extremism – The Way Forward" is a significant milestone in the implementation of the Peace, Advocacy and Community Engagement through Transformation (PACT) for Tolerance project, which is built on a foundation of collaboration and cooperation between SFEA, HEC Pakistan, NACTA, and other policy-level stakeholders.
A significant highlight of the event was the signing of a Letter of Intent (LOI) between NACTA and HEC Pakistan, renewing their commitment to partnering for the cause of peace, tolerance, and inclusivity in university campuses. This partnership will further strengthen and sustain the progress made during four VCs conferences held at regional levels.
Addressing as chief guest, Chairman HEC Dr. Mukhtar Ahmed shared his thoughts on the pressing issue of conflict within the society. He said that conflict permeates various sectors of our society including families and deserves collaborative and coordinated response. He said that as a beacon of knowledge and enlightenment, apart from teaching the universities have the responsibility to foster responsible citizenship and produce good human beings. He said that together we have the power to shape the minds of our youth and guide them towards a path of understanding and respect.
Director General, NACTA Durr e Maknoon shed light on how NACTA has been working tirelessly to unify the state's response to counter extremism and terrorism by formulating policies, action plans, and engaging in continuous research and adaptive innovation. She said that through this conference, one of primary efforts will be preparation of strategies for supporting peace and harmony in the academic institutions.
CEO SFEA Raja Shoaib Akbar apprised the audience of the history and objectives of Shaoor Foundation, the organization working to address this issue for the last three and a half years. He said that academic institutions play a pivotal role in shaping the minds and values of our future generations. By promoting peace and tolerance within these institutions, we can create a ripple effect that spreads throughout society, he told.
Over 70 partner universities involved in the PACT project will come up with a set of recommendations extracted from in-depth interviews, focus group discussions, and key informant interviews conducted with university administrators, faculty members, students, and policy stakeholders from all four provinces of Pakistan.
The conference is expected to result in extensive research-based engagements and the pilot testing of the recommendations at 30 universities. Participants will engage in meaningful conversations on the impact of these recommendations and discuss future courses of action to promote peace and tolerance on campuses throughout the nation.