Summary of "National Report on Launch of Status of Women in Pakistan, 2023" launched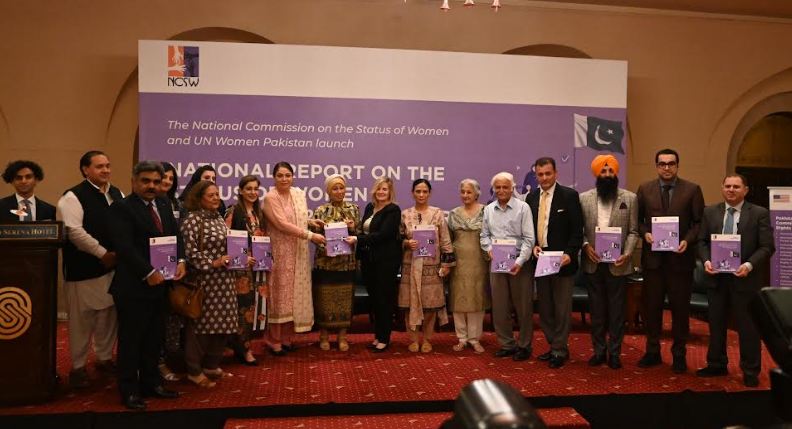 ISLAMABAD, JUN 7 /DNA/ – The National Commission on the Status of Women (NCSW), with the support of the U.S. Embassy International Narcotics and Law Enforcement (INL) office and UN WOMEN, launched the Summary of the "National Report on the Status of Women in Pakistan, 2023". The objective of this launching ceremony was to provide a platform for key experts, leaders, and stakeholders to share their valuable insights on the situation of women and girls and highlight key findings of the report.
The data presented in the Summary Report has been chiefly collected through the INL-funded National Gender Data Portal (NGDP) of the NCSW, a comprehensive and dynamic digital platform for collecting and analysing data on gender indicators to promote gender-responsive policymaking and development planning.
During the ceremony, Nilofar Bakhtiar, Chairperson of the National Commission on the Status of Women, revealed the key findings and trends outlined in the report and said, "By presenting a comprehensive and accurate assessment of the current status of women, the National Report aims to challenge the negative narratives that are often associated with Pakistan and to shed light on the positive strides made in women's empowerment. The report highlights that education and employment opportunities can significantly improve women's well-being, decision-making, and agency. Various socioeconomic indicators quoted in the report show that while much progress has been made, Pakistan still has a long way to go before women realize their full potential as equal and active members of society. NCSW and our partners will use this data to guide our work so that we may target the biggest challenges and make a strong impact."
During the keynote remarks, as a guest of honor Senator Sherry Rehman, Federal Minister for Climate Change, stressed the importance of women's empowerment in societal development and said, "Women's empowerment is a key driver of positive change. This report is a powerful reminder of women and girls' challenges in our society, highlighting their immense potential and resilience."
In his remarks as a guest of honor, Ahsan Iqbal, Federal Minister for Planning, Development, and Special Initiatives, said, "The progress of a nation is intricately linked to the empowerment of its women. This report highlights the urgent need to prioritize women's advancement in our development agenda. By investing in their education, skills development, and economic opportunities, we can unlock their potential as agents of change and accelerate the overall development of our country."
The launching ceremony featured a notable address by INL Director Lori Antolinez. She provided valuable insights and stated, "We believe that empowering women is not just a matter of equality; it is a catalyst for societal development and progress. Launching this summary report is an important step in the right direction."
Sharmeela Rassool, Country Representative of UN Women, expressed her enthusiasm about the event, stating, "The launching ceremony of the Summary of National Report on the Status of Women in Pakistan, 2023, represents a significant milestone in our collective efforts to advance gender equality and women's empowerment in the country. We look forward to further exploring the key findings and trends in the report and using the data to make informed decisions and develop policy and program interventions that would improve the status of women and girls in Pakistan."
This summary report comprehensively analyses women's barriers and offers actionable insights to enhance their status and well-being. The collection of data through the NGDP has yielded a significant outcome in the form of a comprehensive report on the status of women in the country. To ensure a continuous analysis of trends and monitor progress, periodic national reports will continue to be published. These reports will serve as valuable tools for identifying emerging challenges and highlighting areas that require attention and improvement.