Heartwarming Reception: Pakistan street child football team gets warm welcome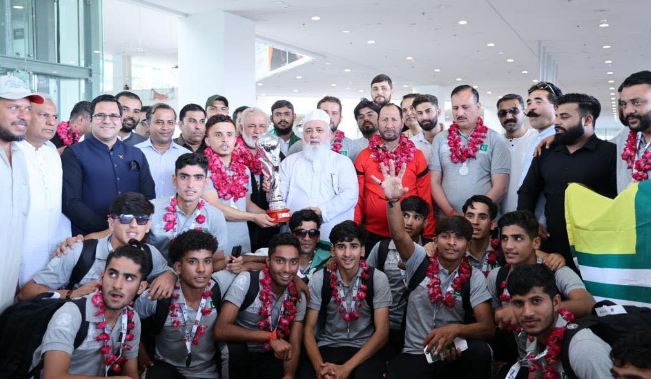 AFZAL JAVED
ISLAMABAD: Pakistan Street Child Football Team on Monday, returned to the country after participating in the recently-concluded Norway Cup.
Street child team, who put up a great show in the tournament, landed here at Islamabad International airport and received a warm welcome by Chairman Muslim Hands International Pir Syed Lakhte Hassanain, fans and their families. They also received garlands as a symbol of appreciation.
Notably, the Pakistan street child football team finished as the runners-up of the Norway Cup after falling to a 9-10 defeat on penalties against Sola FK on Saturday in Oslo. The match was 1-1 after extra time.
Tufail Shinwari's first-half equalizer, courtesy of a free kick, powered Pakistan to make a comeback in the final after Sola FK pulled ahead with an early lead.The 1-1 deadlock between the two sides persisted till the regulation and extra time and the fate of the match was then to be decided on the penalties.
Pakistan street child football team entered the final after remaining unbeaten in seven games. The national team scored the most goals by any team in the tournament and also recorded the largest victory in the tournament's history when they blew Frigg Oslo FK 11-1.
For an exceptional tournament, Pakistan's Asad Nasir was adjudged the player of the Norway Cup 2023.
It is worth mentioning here that Pakistan qualified for the finals of the Norway Cup for the second time, after ending up as runners-up in Norway Cup 2015.
Pakistan team also finished runners-up in the Street Child World Cup in Doha last year. They remained undefeated in that tournament, until losing to the eventual champions Egypt in the final on penalties.
They were also runners-up in the Street Child World Cup 2018 in Russia (2018), whereas, in the 2014 edition they finished third after losing in the semi-finals.