Germany, Pakistan intensify development cooperation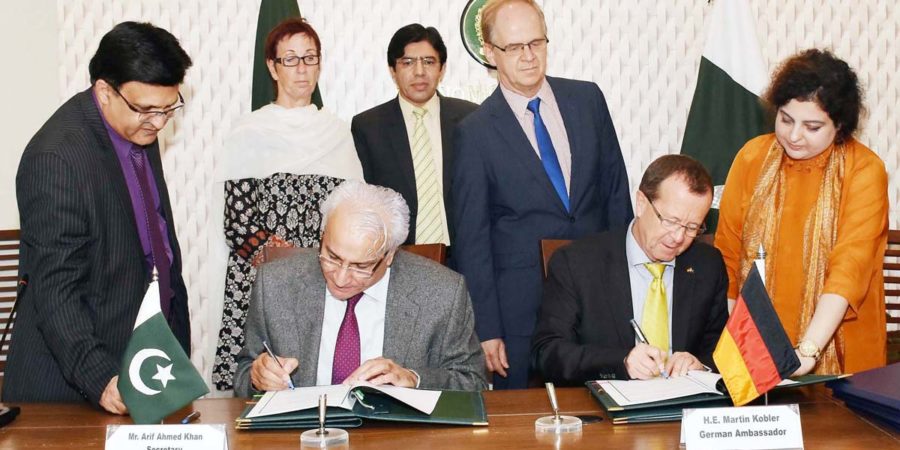 ISLAMABAD, NOV 01 (DNA) –  Ambassador of the Federal Republic of Germany Martin Kobler and Secretary of the Economic Affairs Division (EAD) Arif Ahmed Khan signed two agreements on 31 October 2017 regarding development cooperation with a total volume of 91.7 Mio. EURO (about 106 million USD)
Ambassador Kobler highlighted the progress already made within the development cooperation and the friendly relations existing between Germany and Pakistan. He said,
"We desire to strengthen these friendly relations through new development programs in a spirit of partnership and a close commitment to contribute to social and economic development of Pakistan".
Germany and Pakistan look back at over half a century of successful development cooperation.
The new projects shall support renewable energy and energy efficiency initiatives, improving social and labour standards in the textile industry and Programs supporting "Good Governance". Projects in the health sector as well as reintegration & rehabilitation programs for Internally Displaced Persons (IDPs) are also a part of these Agreements
In a side event, Germany's state run KFW Development Bank signed two implementing grant contracts for the immunization of children against Polio, Pneumonia and Rota Virus. These Programs will be led by the World Health Organization (WHO), UNICEF and the Global Alliance for Vaccination.