Four FC personnel martyred in Kurram Agency blast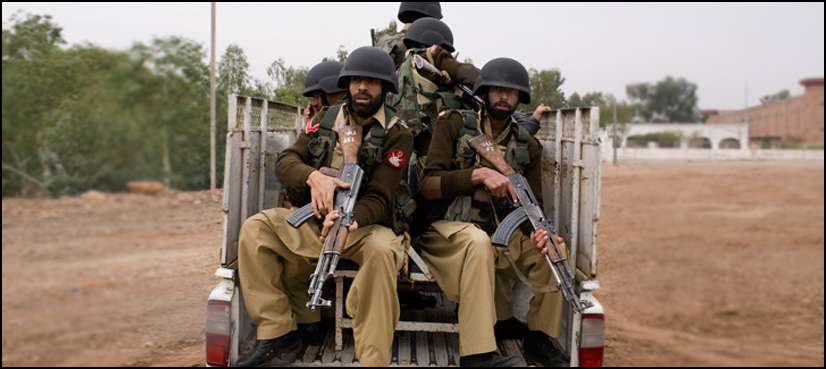 KURRAM AGENCY, OCT 15 (DNA) – At least four personnel of the Frontier Constabulary (FC) were martyred and two others injured when a landmine went off in Kurram Agency on Sunday.
According to officials of the political administration, the blast took place near Kharlachi border crossing with Afghanistan in the Kurram tribal region.
They said two personnel died on the spot while two others succumbed to their injuries during treatment in a hospital.
Security officials said the blast occurred when officials of a bomb disposal unit were conducting a routine search in the area.
After being informed of the blast, the security forces rushed to the site and cordoned off the area to launch operation.
Earlier last month, two consecutive blasts near Torkham border crossing between Pakistan and Afghanistan had resulted in the injuries to at least six personnel of the Frontier Constabulary (FC).
The personnel deployed near the border crossing were injured in two consecutive blasts.  Following the incident, the border crossing at Torkham was closed for any kind of movement.
The army had launched Operation Raddul Fasaad in February following a spate of terror attacks in the country, which claimed more than a hundred lives and left hundreds injured.
The operation seeks to eliminate the "residual/latent threat of terrorism", consolidating the gains made in other military operations, and further ensuring the security of Pakistan's borders.
The ISPR statement had said that this new effort entails conduct of Broad Spectrum Security and Counter Terrorism operations by Rangers in Punjab, continuation of ongoing operations across the country and focus on more effective border security management.
"Country wide de-weaponisation and explosive control are additional cardinals of the effort. Pursuance of National Action Plan will be the hallmark of this operation," read the statement.=DNA
=========