F O expresses serious concerns over Indian ballistic missile submarine launch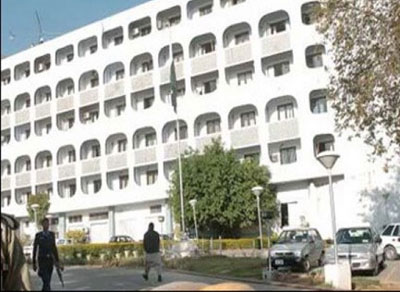 ISLAMABAD, 21 APR (DNA) – Pakistan has expressed serious concerns over the recent Indian test of 1st nuclear powered ballistic missile submarine.
At his weekly news briefing in Islamabad on Thursday, Foreign Office Spokesperson Nafees Zakaria said the development of a nuclear submarine fleet by India is a serious development, which will impact the delicate strategic balance in the region.
He said the test has resulted in nuclearization of Indian Ocean, which should be a matter of worrisome for the region and the international community.The spokesperson said the Indian side did not notify Pakistan about the submarine-launched ballistic missile.
When asked about recent reports on the security of Indian nuclear arsenals, the spokesperson said all countries should take the requisite steps for the security of nuclear weapons. He said Pakistan on its part has taken legal, administrative and regularity measures for the security of these arsenals that are at par with the international standards.
To a question about talks with India, the spokesperson said Pakistan is ready to hold talks with New Delhi to resolve all outstanding issues.    When asked about the interference of foreign agents in Pakistan, Nafees Zakaria said Pakistan has briefed a number of countries about the sabotage activities of these foreign agents and will continue to raise this issue at every fora.
The spokesperson also raised concerns over increasing human rights violations in the Indian held Kashmir. To a question, the Spokesperson said the Afghan Chief Executive Abdullah Abdullah was scheduled to visit Pakistan on the second and third of May but the visit has been postponed.
New dates will be worked out through diplomatic channels.  Nafees Zakaria said the process of Quadrilateral Coordination Group is still on and there is desire to bring peace and stability in Afghanistan. DNA–