Empowering Voices: NCRC Chairperson launches captivating book 'Zor se kehna, NAHEE!'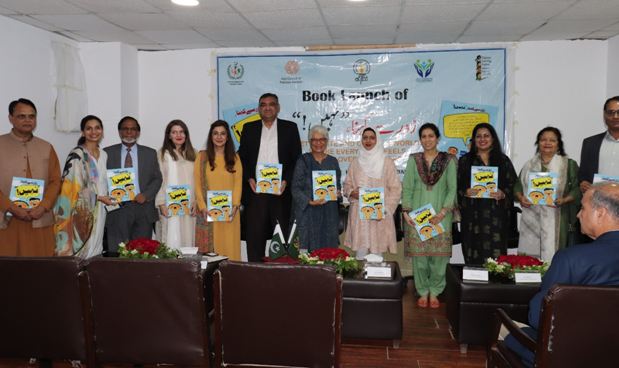 DNA
ISLAMABAD, AUG 23: The National Commission on the Rights of the Child (NCRC) takes a monumental step towards child protection with the launch of the much-awaited book, "Zor se kehna, NAHEE!" Authored and illustrated by UK-based special needs expert, Afreen Rubbani, and published by Idara-e-Taleem-o-Aagahi (IT) publications, the book's unveiling ceremony was held at the Commission's Committee Room in Islamabad.
With child protection and empowerment at its core, "Zor se kehna, NAHEE!" offers vital guidance for children to navigate unsafe situations confidently and prevent child sexual abuse. The book is designed to be reader-friendly, ensuring its accessibility to parents, guardians, teachers, and children themselves. The book introduces concepts of 'good touch and bad touch' alongside fostering an understanding of 'achaywalay log' (trusted individuals).
Ms. Ayesha Raza Farooq, Chairperson of the National Commission on the Rights of the Child (NCRC), spearheaded the launch event, emphasizing the importance of equipping children with knowledge and tools to ensure their safety and well-being. She commended Afreen Rubbani's expertise and dedication in creating a resource that addresses a critical aspect of children's rights.
Through captivating storytelling and vibrant illustrations, Afreen Rubban shed light on child safety, fostering open conversations. The author's presence was deeply appreciated by all present as she had flown from UK for the book launch, as a very major milestone in her life to offer her best skills for child safeguarding. Chairperson NCRC highlighted the book's significance in creating a safer environment, while Dr. Ambreen Ahmad praised its practical approach to building children's life skills and self-defense skills.
"Zor se kehna, NAHEE!" has been hailed as a beacon of empowerment, aimed at sensitizing children to their rights, encouraging open conversations, and fostering a safe environment for their growth. The book's launch aligns seamlessly with the NCRC's commitment to protecting the rights of every child in Pakistan, regardless of background or circumstance.
This groundbreaking publication not only contributes to child protection but also advocates for a society that prioritizes children's well-being. "Zor se kehna, NAHEE!" is set to become a valuable tool in Pakistan's efforts to create a safe and nurturing environment for its youngest citizens.
The book launch was graciously hosted by the NCRC and witnessed the presence of more than # participants and activists esteemed guests, including Ms. Ayesha Raza Farooq, Chairperson NCRC, Ms. Manizeh Bano E.D Sahil; Dr. Ambreen Ahmad, Rozan, Dr. Maryam Chughtai Director National Curriculum Council; Dr. Tabbasum Naz Deputy Director Academics – FDE, Dr. Raja Mazhar Hameed, Managing Director National Book Foundation; Syed Ishtiaq Gilani , CEO-U Good, and Ms. Maham Ali,Advisor Pakistan Learning Festival. The Launch was moderated by Baela Raza Jamil, CEO ITA.
"Zor se kehna, NAHEE!" is a valuable resource for parents, educators, and child advocates. Get your copy at https://itapublications.pakistanlearningfestival.com/.