Election 2016: Clinton and Trump both in full swing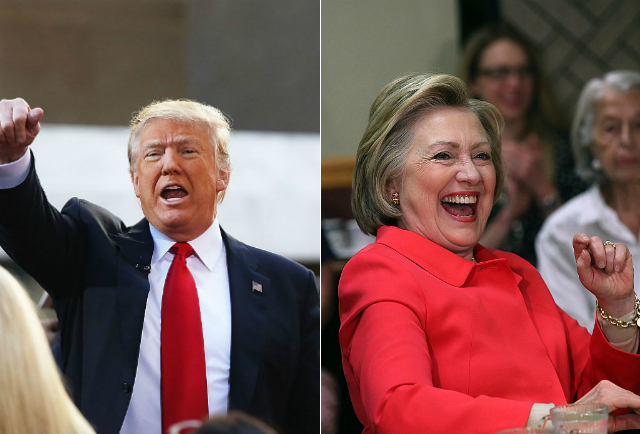 WASHINGTON, NOV 09:  Hillary Clinton and Donald Trump are locked in a knife-edge battle in swing states after polls closed across half the US in the White House election.
The contest is too close to call in the crucial battlegrounds of Virginia, Florida, Ohio and North Carolina.
But Republican nominee Mr Trump has racked up wins in southern states while Democrat Mrs Clinton swept northeastern states,
Republicans are set to retain control in the House of Representatives.
As expected, Mr Trump has been victorious in the Republican strongholds of Alabama, Kentucky, South Carolina, Nebraska, Indiana, West Virginia, Mississippi, Tennessee, Oklahoma and Texas, He is also projected to win Arkansas, Kansas, North Dakota, South Dakota and Wyoming.
The network tips Mrs Clinton to have won the Democratic heartlands of New York, New Jersey, Connecticut, Massachusetts, Maryland, Vermont, Delaware, Illinois, Rhode Island and District of Columbia.
A candidate must secure 270 of the 538 electoral college votes to declare victory.
Voters cast their votes during the US presidential election in Elyria, Ohio, on 8 November.Image
Voting has now ended in 39 states and full results are expected some time after 23:00 EST (04:00 GMT on Wednesday), once voting ends on the West Coast.
The North Carolina Board of Elections agreed to extend voting in eight precincts in Durham County amid long queues
Failed Republican presidential candidate Marco Rubio won his bid for re-election in Florida's Senate race
The Mexican peso dipped after Mr Trump took a razor's edge lead in the key state of Florida
A shootout involving a female gunman left one dead and three injured near a polling station in the southern California city of Azusa
Mr Trump, a Manhattan real estate tycoon, and Mrs Clinton, who would be the first US female president, voted earlier on Tuesday in New York City.
Jump media playerMedia player helpOut of media player. Press enter to return or tab to continue.
Mr Trump was booed as he arrived to cast his ballot at a school in Manhattan, alongside his wife, Melania, and daughter, Ivanka.
The two presidential hopefuls will spend election night in New York City, staging events barely a mile apart.
Mrs Clinton will address supporters at the Javits Centre in Manhattan, while Mr Trump holds an event at the Hilton Midtown hotel.
More than 5,000 police officers have been deployed across America's biggest city to keep order on election night.
media has also released initial exit poll data showing 61% of voters viewed Mr Trump unfavourably while 54% said the same of Mrs Clinton.
Earlier on Tuesday, Mr Trump again declined to say whether he will accept the results.
"We're going to see how things play out," he told Fox News, while alleging there had been voting irregularities. "I want to see everything honest."
Some polling locations have reported equipment failures and long lines, but they appeared to be routine problems.
Media captionThe tiny New Hampshire village of Dixville Notch is the first to vote
Mr Trump, who stoked conspiracies over the legitimacy of the democratic process during the campaign by claiming the vote would be "rigged", also filed an emergency lawsuit in Nevada.
The Republican's camp sued the Clark County Registrar of Voters, alleging the state had kept early voting stations open late.
But a judge rejected the request.
Voting kicked off just after midnight in the small New Hampshire village of Dixville Notch, where a mere seven votes were cast.
Mrs Clinton received four votes while two went for Mr Trump and one for libertarian candidate Gary Johnson.
All 50 states and Washington DC are voting across six different time zones.
Media captionUS election 2016: The Florida county that predicts presidents
Americans also have a chance to determine which party will control Congress.
All 435 seats in the House of Representatives were up for grabs, and ABC News forecasts it will remain in Republican hands.
But a third of seats in the Senate, where Republicans also hold sway, are in play, too, and Democrats hope to snatch control of that chamber.
A record number of Americans – more than 45 million – voted early by post or at polling stations.
Mr Trump and Mrs Clinton are seeking to succeed Democratic President Barack Obama.
After two four-year terms in the White House, he is barred by the US constitution from running for re-election.=DNA
===========