ECP obligated to conduct fresh delimitations, hold polls as per Constitution: Zardari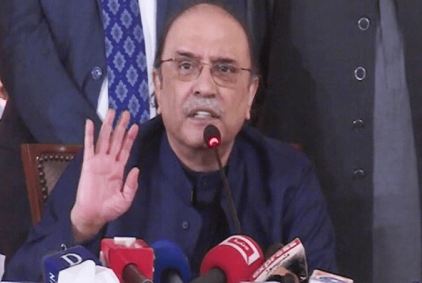 ISLAMABAD: PPP Co-chairman Asif Ali Zardari emphasised on Saturday that the Election Commission of Pakistan (ECP) was obligated to conduct the delimitation of constituencies following the census results, stressing the importance of the electoral watchdog adhering to the Constitution in holding polls.
The statement from the key PPP figure comes a day after party chairman Bilawal Bhutto Zardari called for timely elections and within the constitutional timeframe of 90 days during a media interaction in Karachi on Friday.
The ECP has ruled out elections this year, while the 90-day limit for holding polls following the dissolution of the National Assembly (NA), as mandated under Article 224 of the Constitution, ends on November 9.
It reasons its decision to push elections beyond November 9 on the basis of the notification of results of the new digital 2023 census and Section 17(2) of the Elections Act, which states: "The commission shall delimit constituencies after every census is officially published."
In a statement issued today, the former president said: "The election commission will conduct elections according to the Constitution."
He added that the ECP was obligated to undertake fresh delimitations following the census. "We have complete confidence in the chief election commissioner and the [ECP's] members," Zardari said.
Zardari also highlighted the urgency for the caretaker government to swiftly execute Special Investment Facilitation Council (SIFC) projects in order to set the nation on a trajectory of development.
About the prevailing economic crisis, he called on political parties to prioritise the economy over politics. "We all exist as long as the country exists."
Earlier this week, during the All Pakistan Lawyers Convention organised by the Supreme Court Bar Association (SCBA) in Islamabad, a series of resolutions were adopted.
Among them was the demand for the timely conduct of general elections "within the constitutionally mandated period of 90 days following the dissolution of the assemblies."
The lawyers had also announced a nationwide strike on September 14 to safeguard and uphold the Constitution, the rule of law, and human rights.
Additionally, during the same week, the Pakistan Bar Council (PBC) passed a separate resolution, urging President Arif Alvi to fulfill his constitutional responsibility by announcing a date for the upcoming general elections.